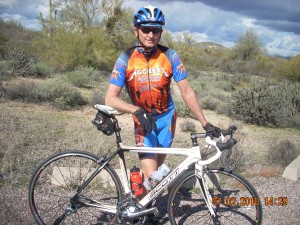 Report from Rick:  Did the McDowell Circuit race today (30 min around a 1.6 mile loop with 2 turns); gorgeous venue, mostly sunny (pic attached).  This race had a 60+ group and we started about a minute behind the 50+ group.  The race was mundanely civilized; I and an AZ Masters rider (Robert Tomkins) did all the pulling between us and about half way thru we bumped the pace up and dropped half our group.  Norm Kibble hung on with us.  On the last lap I dropped into 3rd deliberately until the final 300m or so at which point Tomkins commenced his sprint.  At 250mKibble started to lose the leader's wheel so I made a move to the outside, passed Kibble and continued to close on Tomkins, albeit slowly.  In the end, he beat me by about a bike length.  Nevertheless, I felt like I managed the race pretty well, finished 2nd, and got a bit of cash
Good start to the season eating some cakes.
Cat 3
1st – tie Kurt Garbe 0:29:30 25.28 mph
4th Bryan Schlegel  0:30:17 24.62 mph
Cat 5      2nd Scott Douglas  0:32:19 23.07 mph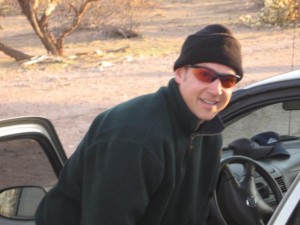 Merckx 5th Jim Averill 0:32:37 22.86 mh
6th Bryan Schlegel  0:33:03 22.56 mph in round two!!  He just change the jersey and machine and off he went again.
60+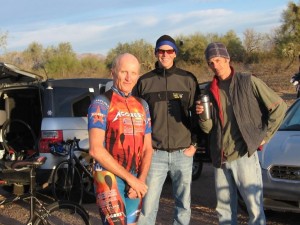 6th Richard Ellwanger  0:34:02 21.91 mph
Cat 1/2 honorary mention
3rd and 3rd overall –  Victor Riquelme 0:28:05 26.55
Bryan wrote: Great efforts on the day from all involved. Also, big cheer for Paula & Beto for coming up from Sierra Vista. Paula and Doogie both jumped in and raced the Master Mens 30+ (VERY fast group comprised of a lot of CAT1/2s). Leo did the shootout as a warmup for the Cat 3s and Neil rolled over from studying at the library. Way to go!
18th Richard Ellwanger Master 50+
12th Scott Douglas Cat 5
18th Bryan Schlegel Master 30+
DNF Scott Douglas Master 30+
DNF Paula Bohte Master 30+
4th Bryan Schlegel Cat 3              Vic's video of the 3/4 race
12th Neil Becwar Cat 3
16th Leo Masursky Cat 3
6th Paula Bohte Pro Cat 1-2-3 F
14th Victor Riquelme Pro Cat 1-2 M
http://uacycling.com/UACrit_Results_2010.pdf