4 stages in under 24 hours…
Jim had a solid all around race having the top Aggress finish in the prologue; when it was all done, he stood 52nd GC.  Out of 87 starters, 73 finished…    RESULTS
Saturday: Kurt contested the RR finish and took 6th and ended the day with 19th in the TT moving from 50th after the prologue to 20th GC.
Leo's Bisbee:  I was terrible in the prologue getting 66th.  For RR1, I did great for me, surviving horrible cross winds in the most difficult RR I've ever done.I felt great going up the last hill, but relaxed too much at the end (stupidly "saving myself" for the TT) and lost 42 seconds, which was pretty much it for me. (44th place)/48th GC.  Then I sucked at the TT losing major time to everyone.  On RR2, I was thinking about whether to contend for improving GC, or to try to place high on the day.  He would roll off with an emerging break that swelled to nine riders. "There was some fireworks between the Dutch guy and the lazy tourist," as all was not tranquil in the break.  "We worked like hell (I was only able to pull every other rotation) and got the gap to four minutes."   Leo held off most of the pack as the break splintered on the pass.  "I put my head down and pedaled, passing one of the Phoenix guys to finish 26th on the day and jump to 39th place."
Meanwhile back in the peleton, Jim and Kurt rode the train until the real show started heading up Mule Pass.  Paul Thomas and company went to work to pull back the break shelling riders as they went.  Kurt held on until the last mile and was the last one to pop from their group.  He would lose four minutes on the stage and drop to 25GC.
Leo the Lionhearted: "It (this event) was beautiful.  This is a grand sport.  It takes a lot to put such strong people on their limit, but when they get there it's marvelous to be a part of, and to see.  Watching Jake drag Paul up the crest of Mule Pass at 14 miles an hour (into right cross wind) was sublime, verily."
From Vic riding with the big kids, "That shit was hard. Except for the TT. That was easy. I tried to follow some United Healthcare guys up mule pass today and that was the end of that. Kablooey!"  He took 15th in the TT!  Good luck in Gila!
From Neil: Strong Second place finish from Beto today. That is one tuff course. Three flat in the last part of the race finished me off in 'what turned out to be 11th!'
From Doogie the Bloodletter: I think I shed enough blood for all of us last weekend.  Beto was an animal as always today.  I had Paula pass me at about mile 32, just to have a flat later on, she was looking awesome today. I was in a minor crash, nothing crazy.  Not sure where I finished, but I was happy regardless.  Your not joking about being a tough course.  That hill was relentless!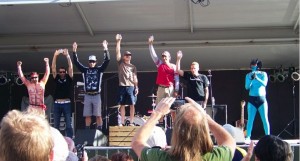 Beto the Brave: It was a blast racing with Neil and Dougie at the Whiskey.  Neil raced crazy strong and would have probably, for sure, finished in the top five if it weren't for the mechanicals!  Dougie suffered an early race crash that definitely and probably took a lot to overcome, and with a bloody-rippen knee finished strong.
Paula easily beat all her competitors in the Women's single speed.  Get that girl an Aggress jersey!     Whiskey Results
Doug Perry represented Aggress in the TTM.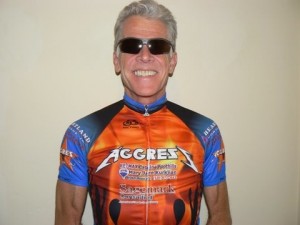 I did the TTM yesterday, but had my worst time of the three years that I've done it. I got gapped from the leaders around mile 25 and couldn't get back on and ended up riding with a group of five and did most of the pulling. Only consolation is no one passed us, I pushed at the end and easily won the sprint in my little group, and I finished 2nd out of 70 in my 60+ age group (in the two years before I was first in my age group). I think I need to move up closer to the front in these type of races when I know the pace, or difficulty, is going to pick up. I was around the middle of the lead pack when the push came and I got dropped (from the lead group).  TTM Results