12 Annual Colossal Cave Stage Race 2010 Presented by Aggress, Presteza and Tachycardia Racing             Report by Kurt Garbe
Aggress put on a great race in conjunction with Presteza and Tachardia.  Don stepped up as race director sportif and Slow Brian taking on some fast math as the results guru.  The whole team stepped up and put on one of the smoothest races I've ever done.  Thanks to all for an excellent event!
Cat 5 Gus placed a strong 4th in the TT.  He fought through a crit crash and finish 15h GC.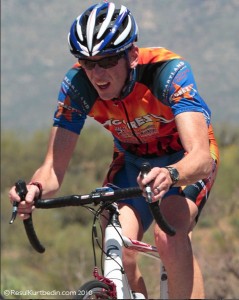 Cat 4 Doogie's first as a 4.  He finished 11th GC with a solid all-around ride.Doogie getting it done
Cat 3 Elliot was helping me and finished 13th GC.He was poised for a strong finish in the crit,but was sent off road by a crash that cut the field.
Eljet sucking some wheels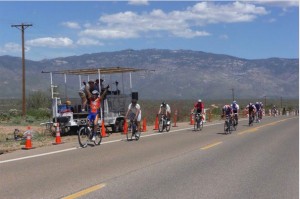 Kurt finished 5th in the TT and 4th in the crit after making the split caused by a crash.   He would miss 3rd place by inches after leaving the (non) chase to race leader Robert Chorost  seemingly gifting his lead to Merry who broke away with a Bicycle Haus rider in the waning laps.  In the final road race it was down to the wire.  Places 1-4 were so busy marking each other, two 'non contenders' slipped by to take 1st and 2nd bumping Kurt off a third place GC podium.  He was initially awarded 3rd on the stage, but Chorost protested and won giving him the GC win and dropping Kurt to 4th GC.  Omnium math sucks sometimes.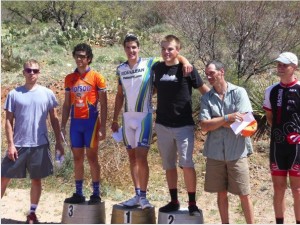 The 2010 Crit Series was put on by Team Tolero. 
Results and Pics
.
Highlights:  Week 1 A Event: Kurt Garbe 2nd, Elliot Anderson 3rd and Bryan Schlegel 4th and Rick in 11th.
B Event Bryan 1st!, Elliot 5th  – last flight of Doogie's Seven!
Week 6: 40 + Kurt Garbe 1st