Rick took the overall for his Category at the Omnium!  Congrats!  Next round of beers at the Barrio is on him.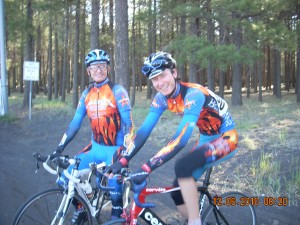 Report by Eljet
It was intense and great this weekend; Cat1-3 together for all 3 stages – the Snowbowl Hill climb was 6 miles up like Lemmon (got about 21st of 28 cat 3's), the 1.8 mile loop circuit race (15 laps) that same Sat. evening was flat and fast as hell with multiple attacks from the cat 1's against each other (which I amazingly was able to hang with till the end).  One of those was a counter attack from Justin for Vic that stayed away.   Two Bike Haus riders joined Justin, then another no-name and the four kept it away and J-bird won for Tri-sports!  In this circuit race the pace was quick and it was windy and multiple cat 3's couldn't cut it (I finished at the back of the peleton lead group, but didn't know how many 3's were there.)  The RR was a fast initial descent, a couple power hills before the turn around that nearly left me solo for the last 37 miles, but I stayed with the group till the incline started to increase about 15 miles from the finish.  The real climbing started 12 miles from the end, which was when my body decided it was totally wasted and I crawled to the end in a very jello-like fashion, but still finished and got the desired 15 points given for just finishing all 3 stages.
It was great to see Jim and Leo and Rick out there, Leo in the 3's had a tough time, and some fitting issues for stage one hill climb, but did great stage 2 out sprinting me and hung in tough for the RR.  It was also pretty exciting to watch Jim the beast in the circuit race in 4's going crazy off the front in lap 9 of 10 pulling those mothers back.
Report by Rick E.
We enjoyed a great race weekend in the cool piney woods of the Flagstaff region.  All in all pretty good weather; 30s-40s in the mornings, 60s by midday.
There were 3 races in an Omnium format: (1) the Snowbowl Hill Climb, (2) Foxboro Circuit Race, and (3) Wupatki Road Race
There were four guys in my age class including Herb Johnson, who came over from San Diego to spoil my sweep of the event by abusing me in the hillclimb; Oh well!  In the circuit race Saturday afternoon I got dropped from the combined Masters peloton at the end of lap1 when GST went off the front and the peloton tried for awhile to hang with them and eventually failed.  However, the pace was fast enough that I couldn't hang but fortunately my competitors fell off sooner and I was able to hide for awhile behind a couple of the other riders that got dropped about when I did. Eventually I got lapped by 2 pairs of GST riders who would be the first 4 riders over the finish line.  The Wupatki road race on Sunday was a GREAT RR; I loved it.  I felt good and was able to hang with the combined Masters peloton all the way out and most of the way back up the hill to Sunset crater.  The peloton did sort of fracture into pieces at that point but I was able to hang with my small group to the finish.  I would rate this as one of my better efforts to date; I was literally miles ahead of my competitors at the finish.
My final tally for this event was 3 firsts and 1 second.
Race Report by Beto Villegas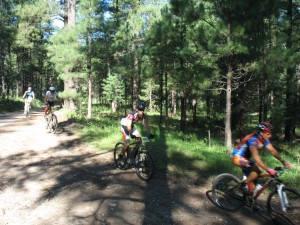 Strong field showed up for this one with some good representation from AZ.  The SS division fielded several Pros from Texas and New Mexico.  The race start was insane with 2000 ft of climbing the first 5 mile.  I was positioned in the 4th spot until I was able to make a break toward the top of the first major climb.  The summit trail consisted of 2 miles of power rollers and huge embedded rocks that were momentum killers, which suited me well.  Once I connected with the Continental Divide Trail (CDT) it was mostly fast twisty downhill for the next 10 miles.  I chased on the next climb but failed to reconnect with the leaders.  David Wilson was traveling home from a two and half month racing tour in the rocky mountain state, so I knew he was in great form.  To my surprise he finished 2nd and 5 minutes behind his hometown rival who set a new course record.  I finished 3rd and a little over 3 minutes behind Wilson.  My finish put some cash in my pocket and beat my best time by 3 minutes.
Three Aggressors (Rick, Gus, Neil) represented at the Thunder Road TT quite credibly.
Gus won Cat 5 and Neil finished 3rd in the Cat 1-3 combo behind Vic and winner Paul Thomas.  Rick won by default, but had a solid time nonetheless.
http://www.azcycling.com/10cal/RESULTS/TR-10_results.pdf