Did the Scottsdale Cycling Festival this weekend; an upscale venue with lots of exhibitors, good food, hotties, etc.– 10-4 Rick E.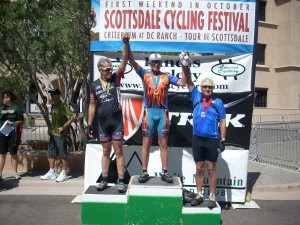 The UCF sanctioned Criterium was held Saturday at the cutesy shops area at DC Ranch; a 1 km circuit with 7 turns including a 180 at the top of the hill.  As usual, 50/60+ rode together and most of the usual characters were there..  I implanted myself toward the rear of the peloton and tried to stay on Bob Pongratz's wheel as much as possible.  Attrition gradually reduced the size of the pack from around 18 to 10-12 by 4 laps to go, and I was the only 60+ guy still in the pack.  At 3 laps to go Bob Pongratz and Steve Cullinan made their move to the front.  In perfect Pavlovian response, I almost went with them, but then some late season wisdom enveloped me in its warm embrace and I realized that my race was already won as long as I didn't crash and that I would certainly not be able to complete the remaining 3 hill2/3 climbs on the backside of the circuit at the now faster pace, so I just hung there at the back of the pack and cruised over the finish line with a big smile while Cullinan and Pongratz established a modest gap from the rest of us and sprinted it out for the 50+ win.  Got no cash, but did get a fancy medal (Hmmmmm), a decent gift card for Landis Cyclery, and a pretty nifty front/rear LED bicycle lighting system.
Sunday was the 70 mile Tour de Scottsdale fun ride.  No platinum passes for this ride.  David Benjes simply set up self-designated start chutes based on your own estimated ride time supplied at registration.  It actually worked out reasonably well.  A critical feature that made it work was the rolling start.  Speed was held at about 15-20 mph for the first mile and a half by a motorcycle cop at the front of the peloton.  It helped avoid the insanity you frequently see right off the start line in El Tour.  The first 10 miles was uphill to Cave Creek and the peloton I did most of the ride with actually formed up and got organized fairly quickly.  We could see the lead peloton with a few dozen or so riders which had now formed up in front of us and we were steadily rolling by all the bs-ers who had lined up ahead of us in the sub 3 hr start chute.  Most fell behind us…   What were they thinking?…. a few were able to hang on.  A gentle climb from Cave Creek East to Pima Rd followed and we continued to roll by detritus from the lead peloton.  Pima Rd was a downhill rip to Dynamite Rd and nothing much happened.  By now the lead peloton was established and rolling and gradually pulling away from us.  Dynamite Rd was several miles of climbing followed by several miles of descending.  I felt pretty good at this point and did my last significant pull approaching the Dynamite Rd summit. We did acquire 3 more pieces of detritus from the lead peloton during the climb.  Our peloton numbered 70-80 at this point.  A right turn at Tonto Verde and then miles of slightly downhill gentle rollers into Fountain Hills.  Since I knew the route was going to go right by my Sister's bar/restaurant in Fountain Hills I mad sure I was in the #1 position at the front of the peloton going by her place.  And yes! There was my family lined up in front of the bar watching me cruise by at about 30 mph (slightly downhill right there) in all my glory at the head of a mass of cycling humanity.  Does it get any better?  As soon as we were out of sight I slunk back to the middle of the peloton and re-buried myself.  From Fountain Hills we turned West on Shea Blvd and commenced a major hill climb up Shea.  My little glory stunt now came back home and I started slipping back as the peloton fractured going up the hill.  By the summit the peloton pieces were spread out over half a mile and I was about 2/3 of the way back in a group of 4.  However 2 monster Carlos Obrien riders summited 100m behind us so we just patiently coasted until they arrived  and tucked in behind them gradually accelerating to 43 mph going down Shea back into Scottsdale.  Ahhhhh!  The physics of downhill mass!  By the turn North at 136th St we had re-acquired another dozen or so riders from the fractured peloton and numbered close to 20.  The remaining miles back to DC Ranch were mostly flat and mundane and nothing much happened.  Toward the end we actually got a little "chatty" and the temperature escalation was starting to become an issue.  The girls with ice-water trays immediately after crossing the finish line were a nice touch and much appreciated.
State Hill Climb Championship – Congrats to new AZ State Hill Climb Champ Doug Perry!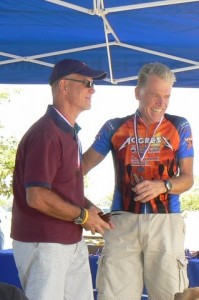 After the beating I took at Kitt Peak last week, I decided to limit my pain and did the 10 mile instead of the 20 mile. When I woke up I saw that it was going to be about 82F at the start of the race, but figured it would only be getting cooler as we climbed … wrong! It was plenty hot (until you got to the very top, at least that's what I heard). Although it was by no means my best effort, I was able to come in first in my age group and will get the polka dot state champ jersey … that's pretty cool. Maybe next year I'll do the 20 mile route with the rest of the team … but  only if I train better and get back to AZ earlier to get used to the altitude and the mountains. Spending the summer at sea level in Pennsylvania has definitely not helped! – Doug Perry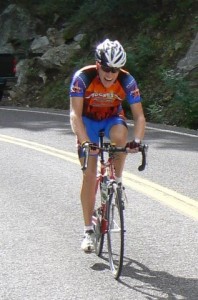 It was gorgeous!  Thanks for the cheer.  I must have done something wrong though. I meant to take 10 minutes off last year's time, but instead I added 15 minutes.  Honestly, I think I got way too systematic about the whole thing.  Much too much planning and thinking about it…the perfect bike tune, the perfect nutrition, the perfect warm-up.  (Sorry, Doug, I was in the middle of my perfect warm-up  🙂 Our wives got to chat at least) 
Anyway that Mt. is a BAMF, and I was not.  When Paula's teammate and Jo Roberts passed me with 5 to go I knew something was really up.  No slight on them, they are great riders butcome on!  Then, I was suffering leg cramps for the last 3 miles to ice that crap cake of a time trial.  Well, my two year old still clapped for me and I got a great roar from Gus and Leo at the top. They might have been mocking me but I was too tired and cramped to care.  BTW Did anyone know that Gus is actually from Brooklyn? Ha-ha, that guy was funny, huh? 
Jim Averill
I got 9th of 18 Cat 3's and it nearly killed me on the mountain.  Post race, I felt relatively good and cold (as I spun out the legs to mile post 136).  I love this race, the mountains were awesome (thick cloud cover that from the bottom looked like the race would be called off by mile 12), the camping at arcadia (mile 11, mile post 125) was great, fresh air and the top to Riggs Lake (32 miles up.beware last 12 miles are dirt road) was great with trout fishing and some osprey cruising around. 
Eljet
I had a strong day on the bike, didn't have the back cramping I suffered on kit keeping me at about 70%. Instead I was on last years stated champions wheel for about 5 miles letting him set a pace that I thought would surely get me to the top with a killer time. But then I grabbed my balls and said whateva (as we say in Brooklyn) and took off to never see his slow ass again. then grabbing the wheel of another state champion for a few and didn't want to make the same mistake twice and attacked on him too, never to see him again. Feeling like a bad ass New Yorker that I am now, just went as hard as I could to the finish line putting a couple dozen riders behind me. Thinking that I was behind the first pack of rider to the finish line, I noticed that half of the entire field was already there, eating, clothes changed, and ready to go home. What the fuck? 
 So I'm hangin' up the bike till next year. Great riding with you guys.
 Salute
Gustavo Ramirez Amado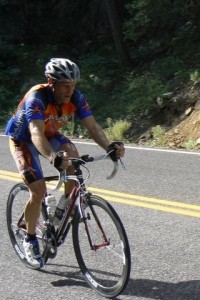 AZ City Cotton Classic #2  July, 2010
Rick and Gus represented at the AZ City Cotton Classic #2 this past weekend and were dominant in their respective groups.  Two firsts in the 20k event.  Gus also did the 40k event and felt so bad about kicking the boys' butts in the 20k that he spotted them all a few minutes in the 40k and then still took 2nd.  The guy has evolved into an animal.  Well done!