Post by Doug Perry:  The Perrys get two podium finishes for Team Aggress!
Not a major event on the calendar, but for my group, Masters M60+, it brought out the two strongest riders in our category: Reg Dowdall and Phil Holman. These two guys were on the podium last year for all the State Championships. So, going in I was pretty much looking at third place being the best I could possibly get. However, signing up, I saw Glenn Harris and, knowing that I had never beat him in a TT, things weren't looking too good.
The headwinds were pretty strong going out … and, on the way back, why does it always seem that what should be a tailwind, turns into a crosswind …? Of course, on this TT, there is climbing of about 100 feet per mile going out as well … made for an interesting day!
I set a personal goal, based on the few earlier TT's that I've done, of finishing in under 50 minutes. I achieved my goal … by one second – 49:59! I also got third place and that was pretty cool, too! Finishing just 3 minutes behind Phil Holman made me feel good too … I know that's a whole lot in a TT, but considering how new I am to the world of TT's I'm good with that time.
Liz did great … capturing a second place in the Masters F55+. Before the race, we discussed her goals and based on the fact that she had no aero equipment at all (no aero helmet, skin suit, booties, aero bars, or aero bike) and that this was her second TT ever, we felt anything under one hour five minutes would be great. She finished in 59:58! A great accomplishment!
 Doug
Eljet wins!  Once again, an Aggressor in a sheep's kit racks up another win.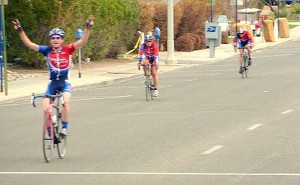 Leo the Lionhearted:  I went out for the 40+, no warmup due to poor planning and yardwork, and rode hard on my dura ace tubies until two RPM guys in front of me popped on the downhill into the wind as Paul made the winning move.  I couldn't overcome the instant 50 foot gap and got whistled off.
I then went to the cat 3 and kept the DA's rolling.  I went better, but got locked in at the back, unwilling to expend the erg's to get to the front.  Just sat in and watched the crashes at the end as two guys rolled tubies off their rims.  Elliot won!!!!!
Mike: Good job guys! I got in the top ten (9th I think) in the 30+ race, and it was tough. Stacked field.
Rick: When it became clear part way thru lap 1 that nobody in our group particularly wanted to pull, I made the strategic decision that I would keep my HR no more than a few beats below redline for the 30 min period, and if that meant pulling, then I would pull.  Fellow Aggressor Doug Perry did provide a couple of laps of much appreciated rest part way thru the race.  No one else in our group pulled at all.  Toward the end only a pair of Summit-Velo riders were with us and one of them faded with about 3-4 laps to go.  On the final lap, Doug came around me a couple of turns before the finish with the remaining Summit-Velo rider on his wheel and the Summit-Velo rider then came around Doug on the last turn and (barely) outsprinted him to the finish (damn!).  I really had no sprint to speak of and crossed the finish perhaps 30 ft behind them.   So, in the end Aggress had 2 riders on the podium and I managed to collect a $25 prime at some point in the middle of the race.
During the post race discussion, Doug and I agreed that we should have tried a 2-man breakaway with 4-5 laps to go, especially given that only the Summit-Velo pair of riders was hanging with us at that point.  This was my first race actually working at all with a Team mate and I kind of think I learned a thing or two and we should do better the next time we have an opportunity.  
Results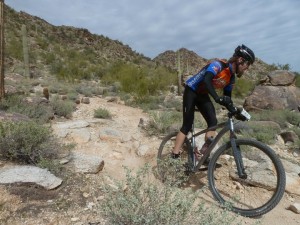 From the newest Aggressor, Aaron Prudler:     I am currently in the hunt for the MBAA Singlespeed Open state championship, and this weekend was race #3 in the series. It was also my first race representing Aggress! The race took place at White Tank Mountain Park, west of Phoenix. The Cat 1 course consisted of 4 perimeter loops of the competitive track, each of which included two technical sections and one good climb, especially at race pace! I showed up Saturday morning to see that the pros had come out to play in my cat. in the form of Dejay Birtch and Tom Ament…….two Very strong riders…..OUCH!….I was in for a tough one. After some much needed encouragement from my amigo, Beto Villegas, I was ready for the start line. Tom Ament (Vassago Bikes) jumped out in front off the start with Mike Haas (Exhale Bikes) on his wheel, followed by Dejay Birtch (Ergon/Niner), and myself rounding out the top four. Dejay Birtch and myself were content to start off at a strong pace without waisting ourselves, however Tom Ament attacked from the start, leaving us no choice but to roll with it. After a few miles, Mike (Exhale) got hung up in some rocks, and Dejay and I made our move into second and third position. We dropped Mike almost immediately, and increased the gap over the next few miles. Dejay took the lead before the first Tech section, and I was able to maintain contact with he and Tom through the first big climb, however lost contact by the end of the second real technical section. Mike was not far behind me, and I knew I had my work cut out for me, if I was going to hang onto third and podium with the pros……….I wanted this one BAD! By the the time we came around for the big climb the second time, I looked back to see that Mike had put some time into me…….It was time to go for the mental attack! I hammered the climb hard, and made it appear that I wasnt suffering, but of course I was! After talking with Mike after the race, it worked perfectly. I never saw Mike behind me for the rest of the race, however I left nothing to chance and left it all on the course. Tough,considering I lost a bottle on the course, and finished the last lap and a half on about four sips of Accelerade! I was unable to make contact with Tom or Dejay, and finished in third place, which I was incredibly excited about for many reasons, two of which are: 1.I podiumed with two seasoned, sponsored pros, and 2. This race put me into the lead in the state championship series!