First off, I think Gene deserves teammate of the year.  He let Tim and I stay at his house, even fed us, and then drove us the thousands of miles around central Arizona to the various sites … all after injuring his calf in the TT.  He cramped up and had some micro-tears that developed into a full blown calf tear first trip up the hill on the road race.  Despite all that, he braved the wind and cold, twice, to give Tim a bottle in his race which was about 3 hours after we were finished!
I'll let Tim tell his story, of course, but I'll mention what he's going to leave out, probably.  He was in a VERY strong Cat 3 group … there were some absolute studs there doing their last Cat 3 races before moving up to Cat 2.  I follow several of them on Instagram and Strava…that field was LOADED!
As for me, I finished 2nd in the GC for men's cat 4.  I'm super happy with that, especially since I never really expected to do a lot of winning this year.  I thought NEXT year would be my "come-back" tour.  (That's a little sarcasm because I've only raced half of one season before getting hurt.)
In the TT I had a very, very bad day.  It was good enough for second on the day, but I felt I didn't deserve it  … silly, but the amount of power I put on that TT was what I usually do for tempo intervals.  But, I was pretty sick, and I wasn't slow due to lack of effort!
The wind on the TT was pretty strong, a tail cross on the way out, which is slightly uphill, and a head cross on the way back.  I had a 90mm front wheel on and I got pushed around a lot!  But, the wheel never got twisted, I just got moved side to side, sometimes abruptly.
The road race figured to be a real shit-show.  It was windy, blowing all different directions, very wet and there were parts of the course with some bad road, huge rumble strips and a cattle guard right after a turn.  But, as it turned out, the only people on the day that crashed were juniors!  I felt better than I did on the TT, but still was just dying to make it up the hill in the group.   I never really figured into the make-up of the race other than to try and bridge to a break away, but being 2nd, I wasn't allowed any leash.  I came in 8th place on the day.
Before the road race both Stephen Pendone and Tom Danielson reached out to me with encouragement and advice.  It wasn't advice I was able to execute in the road race, but I felt stronger still on day 3.  I wasn't sore and had good legs.  The advice was, in TD's words, "Make the race a fucking blood bath."  It was interesting because during the crit, someone else was doing just that for the first few laps and I was hurting.  I moved up and moved up and it got easier.  I kept moving up until the first prime lap when I attacked, got $50 and got away.  One dude bridged and then another, but after I think 2 or maybe 3 laps, we got reeled in.  I just stayed well positioned from them on, until lap 3 when there was another prime.  I just moved up patiently and then stood on the pedals just enough to get a second prime!  
On the last part of the second to last lap riders STOPPED holding their lines and people started getting really twitchy.  All I needed to do to stay 2nd in GC was finish, so I just went on the front and held the pace high until the back stretch when some people started attacking.  I just surfed wheels in and came in mid-pack, same time as the winners.    😀 
I learned exactly what Stephen and Tom were talking about.  When you're dictating the pace, even when you're not attacking anymore, people look at you and treat you differently.  It gets way easier when they're a little afraid of you.  Next time I'll see if I can use that to get a W.
-Philip
Aggressors:
A perfect day; around 60F with calm winds at my race time,
9:25am
.  The first ride in my new kit;  the new flames looked great on me so I had the really important part under control.  I followed Reg Dowdall the first lap as he gradually moved toward the front of the combined 65+ group.  By the lap 2 climb I was functional so I went to the front and bumped the pace up the hill fracturing the peloton into a lead group of 4 and a residual bunch just rounding the top turn as we went over the top and back down toward the Start/Finish line for lap 3.  Reg basically attacked every lap going over the top and back down to the Line.  With 3 laps to go his attack over the top gapped me and Steven Borer while Steve Long managed to hang with him.  Thus went the race; Reg and Steve Long were 1st & 1st while Steve Borer and I were 2nd & 2nd.  I wore my heart monitor for this event and did manage to get my HR up over 160 several times so all in all a good training ride.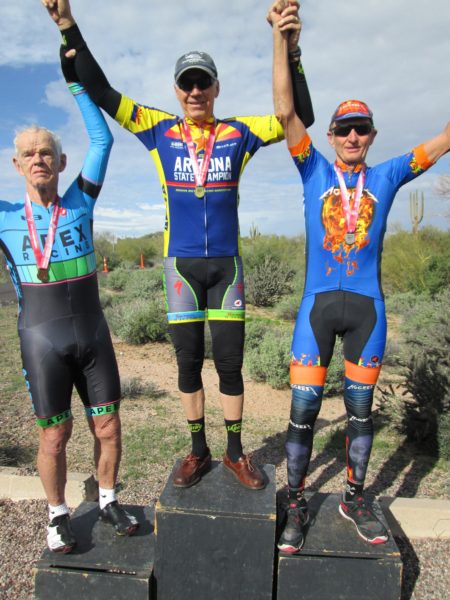 The UofA crit course was pretty fun, long and fast save one very tight, very technical corner.  Early in the day, when it was cold, the paint in the crosswalk there was super slick, 7 separate crashes in race #1!  
I went out to try some different ways of breaking away to see if one would stick.  I'm just trying to learn and develop some skill and instinct really.  So if I don't crash and I learn to be a better racer, it's all good!
Nobody got away in my race, myself included.  After reviewing the race I now know how I could've won.  Whoever was first into that tricky corner, which is the last corner on the race, was first to the finish line.  I should have slammed past everybody on the front half of the race on the last lap and just buried it on the back half.  If they all followed my wheel, no matter, because once you're approaching that corner, there's no passing and so much speed is scrubbed in that turn, that whoever is there first has a huge jump.
As it turned out, I was 7th overall and 4th in my group.  I made my hardest move in the 2nd to last lap and it didn't stick, so I just chased down people that were in the omnium competition on the last lap.  I let one slip away, I didn't realize he was up there.  
It was nice having Rich Horn there cheering me on!  I'm looking forward to racing with some teammates tomorrow in Oracle.  If I win the race I win the omnium.  But, twice up that cat2 climb is a tall task.  Should be fun.  
Rubber side down and GO!
Here's the footage:
https://www.youtube.com/watch?v=jrN6lKZXAkM
-Philip
A quick recap of yesterday's events to start your
Monday
.
Gene, Rich S, and I were in the masters 4/5 35+ race. For the omnium I was in 2nd place, behind by 7 points. So, if I won the road race, no matter what happened, I won the omnium, too.
The course was 2 laps, down the hill a back up.  The day was windy and started pretty cold, even a small patch of ice on the road!  
Down the hill was without event but our group was pretty large.  Going down hill that fast with gusty cross winds in cold weather in a cat 4/5 and collegiate b/c kids is unsettling!  But, we made it.
First shot up the hill was punchy.  This is my first attempt at matching anything in a road race in almost 3 years and I was in trouble near the top. I decided to ease off and catch back on down the hill.  
As soon as I did, I saw the cattle guard, marking the top.  There's still climbing after that but it's more my style.  I could see them but couldn't catch back on.  They started attacking each other and were soon out of sight.
I wasn't sure, but I thought there were 2 guys in that group that were in my race.  I sat up and waited for a big strong dude that got dropped before me and we worked together through town, picked up a college kid on the way down.
I kept thinking how pissed I'd be for sitting up there if it cost me the race.  But, even on the long downhill we couldn't see that lead group.  We just weren't closing in.  The headwind made it tough and they were obviously working together.
So, about half way down I stopped taking normal pulls and just went full gas for 2 minutes.  Then, I saw the group … way ahead still.  I redoubled my efforts and at the bottom of the hill we were just 25 yards behind.  We caught them easily then.
I joined the pace line, there were about 10 total, including the two I brought down the hill. As I examined the two masters riders in the group I saw they were NOT in my race. All I needed to do to win was sit in and not crash. 
That's what I did.  Back up the hill, the two older guys worked over all of the kids.  I just rode tempo up the hill and dropped everybody but the one kid I brought down the hill.  Turned out he had a chance to win his race so I worked for him, well tried too.  On the downhill section coming into town he lost my wheel … I was going 53 in a 25, not sure what happened there.  Anyhow, he won his race too. 
It was great riding with Gene and Rich and seeing Rick out there, too.  
Enjoy your week.