Well, the first 10K of this 20K were great for everyone. About an 8-10mph tail wind, cloudy skies, temps in the high 50's, smooth road … then, we all had to turn around and get back to the finish. The head wind was brutal! Really brutal! For example, going out I averaged 29.2mph … yeah! Coming back I struggled to see a number starting with a "2" … I averaged a dismal 19.7mph … UGH! I was really hoping to break 30 minutes since I did the course on Wednesday (with low winds) in about 30:15, but today could only manage 31:19. Disappointing, but something to build on.
We had three Aggressors out today and this is how we finished:
Gus Amado 29:54, 24.88mph, 7/10, M40+
Doug Perry, 31:19, 23.76mph, 4/10, M65+
Rick Ellwanger 31:59, 23.26mph, 6/10, M65+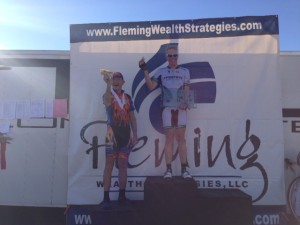 Perfect weather; sunny, temperate, calm. M50+/60+ combined field, as usual. At the start of the race it was announced that an anonymous philanthropist donated $300 to provide all 6 podium finishers in the combined field a $50 cash award. There were 7 60+ riders including Robert Tompkins, my probable competitor, and perhaps 20 or so 50+ riders. First lap was neutral, behind a pace rider; a great idea, actually. It allowed all to get clipped in and comfortable before the race actually started. Lionel Space immediately attacked and most of the peloton followed, maintaining the pace for 5-6 laps, until his attack fizzled. The peloton remained pretty stable until 2 laps to go, at which time the point riders (Space, Broadhagen) hammered the hill hard and the peloton began to fracture. On the final lap they hammered the hill even harder and it was basically all I could do to stay on Robert Tompkins wheel. Going into the last 2 turns there were about a dozen of us left and I decided to cut the inside track hard on the final turn, even if I had to go on the sidewalk to get around robert coming out of the turn for the final 200M sprint to the line. Lionel Space stood and started his final sprint going into the last turn and held a small gap all the way to the line to win the combined field and the 50+. I came out of the last turn 3 ft off Robert's wheel, we both stood to sprint, and by the line he had increased the gap to 12 ft and there wasn't a thing I could do about it. Damn! my sprint sucks. To add salt to the wound, it turns out one of the guys Robert passed by about a wheel at the line was also in my group, so I finished 3rd. On the plus side, we all got $50 for making the podium, so I was able to drown my sorrow in a good bottle of pinot noir. Turns out the cash surprise seemingly provided inspiration and our pace was quite fast; 26+mph.
All in all, a decent beginning. Rick E.