Rich Horn is my hero!  The wind is always a factor at Cochise and this year was no different.  Everybody, no matter how much they try to hide, ends up putting more watts to the pedals to overcome the constant drag than they want to.  He looked great going into Bisbee and had a fast time up Mule Pass considering the distance he still had to cover.  I expect from the results that he probably soloed all the way from Bisbee to the finish, pushing through the wind all by himself, the only one strong enough to finish.
Here is my take on the 97 this year:
Beto called the night before and gave me & Jeremy spot-on beta on who to watch just like always.  What an invaluable resource he is to this team!  Amongst his picks, I had spotted in the registered riders list the other 3 powerhouses that podiumed:  Tim Carolan, Sean Daley & Andre McNulty.  Those guys along with the winner (Flanders) and Michael Hast lit up the climb just after the roundabout and put 90 seconds on Jeremy, myself, Robert Chorost & 3 others' chase group.
At the top of Mule Pass, Jeremy shattered our chasers with a strong pull in the last ¼ mile and we all went over fragmented.  I got an amazing running 2-bottle feed from Doogie at the top and hammered to get to Jeremy so we could descend together.  As soon as I got to him he had a blowout!  I cursed as he called Doogie to get a wheel & pace and I proceeded down the long hill to get to two of our group already descending.
I descend pretty well and pulled them back within a minute.  Staying tucked as I approached at a much higher speed, I was screaming at them to get on, determined to work hard to pull back the leaders.  Predictably, they let me go flying by solo without getting on, so I sat up to wait.  When they got to me, I encouraged a fast rotation (the best way to descend quickly with a group by the way) but since neither one of them seemed to know how to achieve a tuck, the mostly followed me down the remaining miles.
We began rotating and quickly pulled back Jose (McDonnalds sponsored sprinter) who also got dropped by the climbers.  After a few miles of work, the douche-bag tandem (we all have stories about these guys from years past!) pulled a 2-3 more riders to us, already yelling at & berating riders to pull hard as they roll up.  We all begin working well despite being cooked, everyone sharing in the work, rarely sitting out a rotation to recover the legs, but the tandem begins their chicanery.
I knew they were working with the pro and took care to point out their alliance to the rest of the group whenever they were out of hearing range.  The tandem riders continued to berate our riders so I knew what was coming and that our chase was doomed to fail.  From this point forward, I conserved my energy to recover my legs knowing that catching the leaders wasn't going to happen.
The attacks began coming from the tandem & Jose.  I covered when I could & surfed others covering when I couldn't.  Robert Chorost was real riled up and began attacking the tandem every chance he got.  The rest of us followed or pulled through.  This continued for miles up Davis road.
Karma was swift today and the tandem began to flat on their front wheel.  I took stock of the distance remaining, considered both options and the ramifications, and not fully out of generosity, I offered up my spare wheel for the tandem to use.  Doogie was close so I asked him to give my wheel to the tandem as our group soft-pedaled to wait.
All this lollygagging in the cross-wind allowed the substantially larger chase group 3 to catch us near the end of Davis road.  I breathed a big sigh of relief knowing my pulls on the front were over and went to the back to give my legs a much needed break.  The tandem and others took up the work on the front but without impetus.
We turned into the wind on 191.  The pace was slow enough and people weren't pulling through, so I moved up to top 10 to surf and cover attacks.  I found Jose's wheel and battled all on-comers to retain it, knowing he was the strongest and wouldn't let any breaks get away.
Eight miles from the finish the pace slowed significantly in the blustery headwind and I knew this was the time to make a move.  Jose moved out left and started heading to the front.  I followed him a few places knowing what he was about to do and took stock of the situation.  I knew in that instant that if I went with him we would be working together in the wind for the next 8 miles, fighting to be first out of the chase group.  I also knew he was much stronger than me and that he would probably jump me for the win as we neared the finish line.  Those that know me know how competitive I am and how much I will give for minor victories.  This time I'm happy to say I decided to let him go solo and without reservation, gifted him 6th place if he could stay away by himself.  I dropped back a few places and reinserted myself into the group as I watched him disappear up the road.
I surfed up & back a lot as the group varied between charging hard strung-out and slowing, making sure to be sheltered behind big experienced riders.  I moved up to 3rd when we turned off 191 into a horribly strong crosswind, one of the few to actually get a draft a we were driving hard on the white line on the left hand side of the road!  We turned onto the final stretch.  Sprinters positioned themselves in key places while the usual early attempts at 3k/2k/1k solo glory went & sputtered.  The tandem drove a fast pace in the final 1k into that brutal head-wind.  I had made the decision earlier in the day to delay launching my sprint a bit longer than usual due to the wind direction.  Gary Raymond launched his sprint at 250 meters on the left side.  I waited on the right side of the group in 3rd position to surf chasers and launch at 150m.  Kudos to Gary!  He stayed strong for the full 250m.  I launched strong to pull him back accelerating the entire way, but even with my much faster top speed he beat me by a wheel over the finish line for 7th, relegating me to 8th.
After the sprint, my legs felt the best they had all day.  I feel good about the decisions I made on the road and I'm thrilled with my result.  I figure, the best result I could have had that day was 6th place, so two places back from that on my first event out in 3.5 years is pretty good.  It's only been 100 days since I was cleared by my surgeon to ride again.  To be honest, I can't believe it went this well, and I'm starting to regain some confidence back.
Y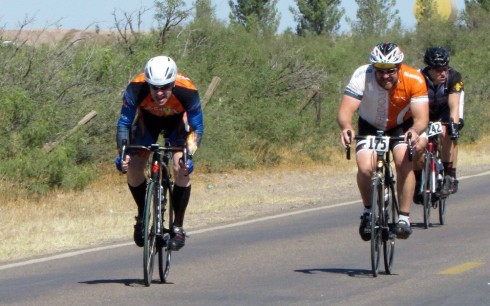 I know.  It's getting mildly frustrating.  I was climbing great and felt awesome.  The funny thing was the tires were the same but the wheel set was different.  If anyone has a suggestion on a durable race/training tire I'm all ears.
It was kind of comical after the ride when I was talking to Bryan about the tunnel.  When we were in the tunnel I heard Bryan shouting and saw him wave his hand.  What I thought he was telling me was to drill it to the top.  "Hey, go go go!"  Instead it was "Hey, you are popping me off."  Dumb ass!  
Great job Rich!  As always, nice to see you in a race.  Even if it's not the same race.  Animal!
Shout out to Doogie.  Magnificent support.  I'll watch where I throw the bottle next time.  Great electrical taping job, it keeps the mind busy for a minute or two.
Bryan, as always, brilliant riding sensei.  
Jeremy
———————-
Bryan,
  Great story!  Wish I could have something as exciting to write up.  No I was not the only finisher in the 165, here are the top 10:
PLACE NO. NAME               SEX AGE TIME     MPH    CITY, ST

   1   3 RICHARD HORN         M  44  8:11:26  20.0   TUCSON, AZ          
   2  24 BOB MCKENZIE         M  61  9:04:35  18.1   TULSA, OK           
   3  21 CHARLES WHEELER      M  52  9:30:21  17.3   PARADISE VALLEY, AZ 
   4  22 BRUCE MOGEL          M  55  9:44:22  16.8   SCOTTSDALE, AZ      
   5  20 JOHN HEALY           M  31  10:02:01 16.4   SIERRA VISTA, AZ    
   6  10 ROBERT LAPOSTA       M  46  10:05:30 16.3   SIERRA VISTA, AZ    
   7   8 MARK GOLDENTYER      M  55  10:10:16 16.1   TUCSON, AZ          
   8  11 JESSICA WALKER       F  35  10:14:59 16.0   TUCSON, AZ          
   9  15 THOMAS ARMSTRONG JR  M  57  10:34:40 15.5   SIERRA VISTA, AZ    
  10   9 MICHAEL INGRAM       M  63  11:15:39 14.6   TUCSON, AZ 
  However this year between all three distances, there were over 125 DNF's, 5 of those were in the 165.
 
   I was on the front from the outbound turn onto Glenn.  Due to a stomach bug that hit me Friday, I had to visit the facilities before the climb which caused a several minute delay.  After that I went slow for the first 2/3 of the climb to help bring Bob McKenzie back to the 5 or 6 riders that jumped in with  97 mile riders as they passed.  Once Bob was back with the group I thought I should try to catch some of the faster people from the 97 so I can draft off them from Mule Pass to Davis road turnoff.  I did pass many people going up to Mule, found no one to ride down with and a mile or so after the bottom jumped on a small group with a tandem for about 5 miles.  Then I left them to bridge up to another group of 10 or so riders because I thought I saw an Aggress jersey there.  Once I caught them, the Aggress rider was off the front by himself, it was the last climb before Davis road.  I left that group and bridged up to see who's flames were burning brightly and it was Jeremy!  He said he had gotten a flat and the lead group was about 10 minutes ahead.  I road with him for about half a mile and then wished him well as he turned off at Davis.  It was nothing but wind and grasshoppers from that point on.  Oh, did I mention a stomach bug?  I had to stop a few more times, but I will spare you the graphics.  I did stop to swap out front wheels at Dragoon.  If I did not have to stop so many times, and for so long, I would have gone under 8 hours for a platinum.  Next year will be a piece of cake because more strong riders will be doing the 165 with me.
  I'll post a picture of the Conquistador as soon as I have a chance.
-Rich