On August 18, 2013 @ 9:04 a.m., Robert and I started our MTBike race in Signal Peak, NM, eight miles north of Silver City, NM, in the Gila National Forest. The largest turnout that I recall for the singlespeed category, with representation from AZ, NM, and TX. The start of the race is a steep, rutted, jeep road that tests your mental fortitude and power output, putting you in the red from the gun. I got a good jump with another ride from Taos, NM. The scouting report indicated he was the rider to beat and was leading the points category, including the altitude advantage and a season pro. The start is above 7000 ft and travels through numerous power climbs on a FR with challenging terrain to the summit of 9000 ft. I sat on his wheel which afforded me the opportunity to attempt to capitalize on his weaknesses. I cleaned some potential hike-a-bike sections and put a significant gap on him and the rest of the group of 14 riders. My goal was to reach the summit with a small gap. The climb takes approximately 50 minutes and leads you into a 3-mile stretch of sweet high-alpine singletrack that is perhaps the most challenging section of the race. The pics depict the obstacles on this stretch of singletrack, except the tight-off camber drop off sections. Courtesy of Paula, she staged herself on the most grueling section of the trail. By that point of the race, you were forced to display your best poker face impression for the mug shot. Paula reported I had a 5 minute lead on the 2nd place rider at that time of the race. The descent on the CDT is the most rewarding section of the course, with fast-swooping singletrack and tight technical swithchback.

I continued to push as hard as I could, and, tor the first time in that race, my legs felt empty. I had caught several Cat 1 and Pro open geared riders in that 10-mile stretch. They had started approximately 8 minutes before our wave. They were good sports and allowed me to pass through. I caught a Stan's No Tubes racer on the final fun downhill, which consists of rollercoaster type jeep ride which encourages big air. He was on a full suspension rig so I encouraged him to take lead. I got distracted at one point with spectators on both sides of the trail, catching huge air and I believe a camera shot from one of them. A big cheer followed, and perhaps one of the most adrenaline rushes of my life. The legs were back for the next two sections of steep, off-camber, climbs for the final leg of the race. After numerous water crossing and a bombing single track descent, I sprinted to the finish.

I finished the race with not my fastest time, but satisfying result since I had not officially raced in over a years time. The race averaged 7800 ft and over 3500 ft of climbing in a 22-mile loop. The average finish is 2:20 and I finished in 2:02. Results are not up yet, however, I believe I finished 9 minutes of the second place finisher. Robert had a great run for a podium spot, however, a catastrophic mechanical kept him from finishing the race. He can chime in on his experience. Next up, a 100 miler mid September.
Beto Villegas 
 Rigid and Single on a 29er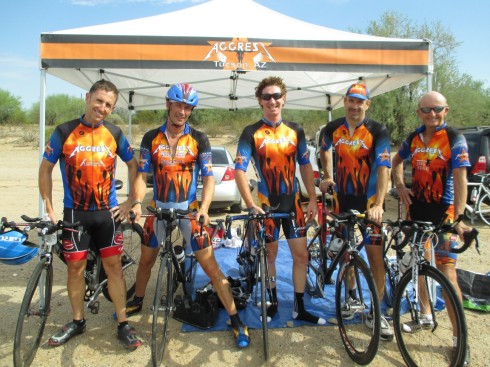 Better to suffer with friends.  Great time today!  Some podium spots – details to come when they sort out the ordering.  Judy (and Rick) fed us awesome breakfast burritos afterward under the Aggress tent.  Best way ever to emerge from the hurt locker.  Tail wind and downhill on the way back made it actually fun. Fitness is coming back!
 TTT up next.
Aggress Results:
| | | | |
| --- | --- | --- | --- |
| Kurt Garbe | Men Cat-3 20k | 30:20 | 1st place |
| Kurt Garbe | Men Cat-3 30K | 45:47 | 2nd place |
| Rich Horn | Men Cat-3 20k | 30:52 | 2nd place |
| Rich Horn | Men Cat-3 30k | 44:42 | 1st place |
| Tim Scott | Men 40+ 30k | 43:05 | 1st place |
| Rick Ellwanger | Men 65+ 30k | 50:42 | 1st place |
| Gustao Amado | Men Cat-4 30k | 47:49 | 5th place |
| Kerry McLaughlin | Men Cat-5 30k | 50:28 | 2nd place |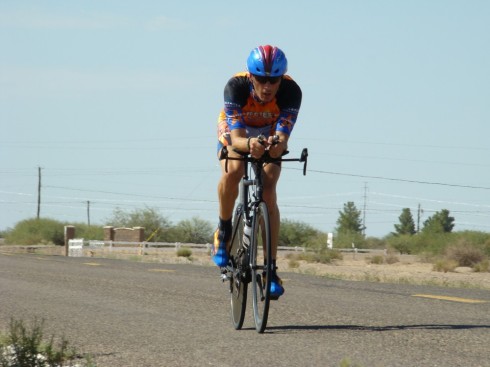 Today was exactly as expected for me.  I'm riding my way back to fitness.  We all did the double tap 20 and 40K TTs.  I kept my heart rate in the same place for both events 173 and 172, but I had to reach deep the last 15K in the heat for the 40.  That and the 4:30 launch from bed left me rather shattered for the rest of the day.  Surely I owe Rich some beer.  He and Tim both put in solid efforts.  I'll be ready by the TTT in September.  I was not ready for today…  Ouch!
Kurt
Aggress results:
| | | | |
| --- | --- | --- | --- |
| Tim Scott | Mens 40-44 20K | 29:04 | 1st Place |
| Tim Scott | Mens 40-44 40K | 58:17 | 2nd Place |
| Rich Horn | Mens Cat-3 20k | 29:46 | 1st Place |
| Rich Horn | Mens Cat-3 40k | 59:30 | 1st Place |
| Kurt Garbe | Mens Cat-3 20K | 30:27 | 3rd Place |
| Kurt Garbe | Mens Cat-3 40K | 1:03:17 | 4th Place |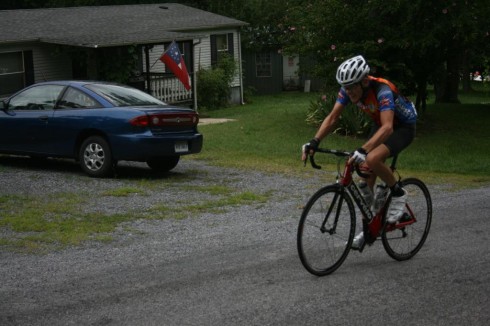 Yesterday I raced in the Page Valley Road Race in Stanley, VA. This is the course that they hold the Virginia State RR championships. They had all the masters racers in one field, so all the M35+, M45+, and M55+ raced together. There were a total of 40 in our combined field. The conditions were low winds, overcast, and a light rain for the entire race.
Needless to say racing against some guys that were more than three decades younger was a daunting challenge … and, one that I wasn't up for!! I stayed with the main group for one lap of the 11 mile course, but that was the last I saw of the speedy guys! There were several crushing climbs that were fairly long and went from about 7% to one that was 12%. This was more climbing than was advertised and I probably wouldn't have driven the 2.5 hours to get to the race had I known … you all know that I'm not much of a climber. To make a long story short, I was able to come in 6th out of the 12 in the M55+ field and was able to beat the two other guys that were M65+. Competing against such a tough field does have one advantage … USA Cycling points … I got the best (lowest) points ever for a race for me 347. This pushed me to embarrassing heights in their ranking systems for the Road Race … 2nd out of 159 in the country in M65+… not sure they know what they're doing in the way they handle this ranking system!
I may try to squeeze in a crit, before we give up our babysitting gig and return to AZ in September …
Another perk in racing back east is they took a ton of pictures and they are available free to all racers. See the one below of me starting the struggle up one of the climbs!Doug (The Wheelman … wish I had my Enve's or Zipps with me!)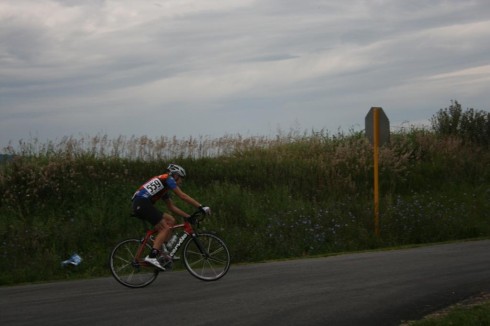 Once again anything can happen. My body was ready for this. I had my video camera on my bike and of course the first thing I did was find my turn around blooper, not funny! I went to the finish line to let them know to train their dudes to pay attention, very nicely of course cause we make mistakes, so that's when he said he will adjust my time. Ok cool I didn't expect that so I thanked him, then  he said 10sec. Shit man if your adjust be realistic on how long it takes to do a loop in the middle of a hard TT. But I'm happy, I'm healthy, clean and doing this shit again in a couple of weeks.
Always great to see every one out  and Horn on a TT bike, scary! Feed back on the Osymetric ring dude.
Lelond thanx for making the trip, and showing me how to LockOn.
GRA
Thanks Richard, for the results and providing the shade…
Good times and good times everybody…I blew my left butt cheek out trying to get comfortable on my TT bike.
Thanks Gus for shaming me into doing it…BTW everybody, they gave Gus a ten second bonus for messing his turnaround…..shoulda been more like 30-40 seconds. Bottom line is, he was flying, and he was LOCKedON!
Hope you mountain goats flattened Lemmon today, and flew the flames proudly.
Tim, I think you averaged 24.99999 miles an hour…you shouldn't have burped halfway through…haha.
Way to crack the magical 25 mph barrier Richard!
Kerry, are you sure you're new to this game? Your time indicates you still have lots of residual strength from your 'Haliburton Hockey School' days! And being on an exotic bike probably didn't hurt either….great showing.
See y'all next time around,
Michel
Aggress results:
| | |
| --- | --- |
| Kerry McLaughin | 5th place Cat5 53:04 |
| Gus Amado | 5th place Cat4 47:35 |
|   | (officials accidentally had him turn at the 20K turnaround) |
| Michael Lalonde | 3rd place M 55+ 46:07 |
| Tim Scott | 1st place M 40+ 45:08 |
| Rich Horn | 1st place Cat-3 44:25 |