Greetings all:
THE mountain has been conquered, once again.  Race day dawned crisp, clear, and mostly calm.  Gran Fondo riders went off at 0645.  USAC racers began starting at 0700.  My scoring group (MM70+) went off at 0715.  Five of us went off in a tight group and all of us actually did a pull of about a mile or so.  However, for the next round of pulls, only Herb Johnson and I were willing to work at the front.  By the time we were approaching Echo Lake (1/3 of the way up) only Herb and I remained.  We continued to exchange pulls and he did make several furtive attempts to drop me, but his "stand & deliver" segments were barely faster than his seated segments, and I was able to maintain the pace without standing.  As we were approaching timberline I went to the front to pull and bumped the pace by a couple of km/h, because I could.  I could hear his breathing becoming more labored behind me, and after a while I could no longer hear him at all.  A km later during a hairpin turn, I took a look back and he was several hundred meters back.  I resumed the same pace and by the finish he was no longer visible behind me.  I think my Bete Noire has been finally banished.  Post finish, I grabbed a banana and some fig newtons and sat down on some rocks next to the summit parking lot to eat.  Soon, a herd of a dozen or so rocky mountain goats walked up to me and the other riders sitting on the rock pile and looked at us expectantly.  A rangerette asked us not to feed them and after a while they wandered away.  However, one goat in particular, a big billy, gave me a very knowing and disquieting look.  Made me wonder if this is where the Aggress goat goes when it dies.
A new disposable timing chip system was tested for this event, and it failed miserably (Courtesy  timing vendor).  Preliminary results listed Herb as the only finisher in my group so I immediately filed a protest.  I was followed in short order by 50-60 addnl protestors, at which point the preliminary results were pulled down and the Promoter announced that there was a bit of an issue to be resolved with the timing system.  By mid afternoon the estimate for resolution of the protests had degraded from "in a little while" to "as soon as we can."  Judi and I were looking at a long drive back to our cabin, so I left my mailing address with the Promoter, and we hit the road.  It is very unfortunate when critical features (scoring) of a spectacular event of this magnitude are so poorly executed.  It will surely hurt next year's attendance and the reputation of the event.
I was satisfied with my approach for this "bucket list" event.  I feel my training was about right and, in contrast to the opinions of many In the coaching sector, I feel the week at 10,200 ft (vs 5,000 ft) prior to the event was important and made a difference, as I felt comfortable all the way to the summit.  The descent back down was in some respects more challenging than the climb and required continual focus and a light hand on the bars to avoid craters here and there in the road surface and to mitigate the jarring impact of uneven cracks in the road surface.  There was also some casual water and dirt sections to keep you alert.
Rick E.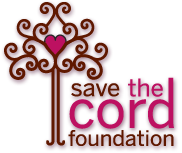 Have you noticed the Save the Cord Foundation (a 501c3 non-profit) on our shirts? We would like to take a minute and explain why we are so proud to wear this logo. Our good friend, Charis Ober, started the foundation after meeting two extraordinary children who had received life-saving cord blood transplants. One child won a battle with leukemia and the other with sickle cell anemia. They are both living happy and healthy lives thanks to cord blood. It was then that Charis decided that no more cord blood should go to waste. 
Through the years, we have followed Charis on her quest to educate parents about the amazing natural resource. Did you know that over 95% of cord blood is just thrown away as medical waste? True and sad. This a valuable natural resource that is not controversial because it is something that is simply thrown away unless the parent chooses (and often has to insist) that it be saved either publicly or privately. 
When a couple is expecting a baby, they are overwhelmed with information about baby buggies, cribs, nursing techniques, etc. However, we feel like parents really need to get the facts on cord blood like the fact that it is actually being used RIGHT NOW to treat over 70 different diseases. Even the State of Arizona has acknowledged how important it is and they have set up the Arizona Cord Blood Program for public donation of your newborn's cord blood. If you are expecting, visit Save the Cord Foundation's website to get unbiased and non-commercial information on cord blood. You can even sign up for a FREE BABY SHOWER REGISTRY and get a free year's subscription to PREGNANCY MAGAZINE.
Depending on your family's needs you may choose to donate it or save it privately. You choose but please don't throw cord blood away. 
We support Save the Cord Foundation in their mission to educate expectant parents! Thank you Save the Cord Foundation for also supporting us in our endeavors.