I was nervous as usual. I guess I'll never get over the pre-race jitters. It helped that I was with Rich & Cathy because they're super chill before a race. We drove up together and stay at a friend of theirs. 
That morning I wad lucky to line up with Rich Horn and Philip Brown. We started in a masters group that was 30 through 49. It looked like we had some competition. 
I'm always quiet and focused at the start as I'm visualizing the race. 
Things went amazingly as I planned. I stayed near the front of the race not wanting to get into any trouble. I Was able to match any pace and felt very comfortable. The only real problem was my rear shifter was having issues. I think a new chain is in order.
I did struggle on one steep rollers in the back stretch of the race. I had just eaten and that often slows me down for whatever reason.
I made it back on easy enough and tried to conserve energy for my eventual break away. 
We finally reached the last turn towards Show Low and had a headwind heading back. I came around the corner and put in a hard two minute effort and created a huge gap from the field. Two riders who turned out to be one of my 40+ guys and a 35+ guy from Mexico. The group let us go because they had just been caught by the chase group.
The three of us worked relatively well together with me barking orders to put in work. I tested these guy on the first big climb and was surprised that they stay with me. We continued working because we knew the group wasn't that far behind. However on the bottom of the last big climb I timed my break just as Bill the 40+ guy finished a pull and the other guy was starting his turn.
Bill was quickly dropped. He told me later he was already at the end of his rope at that point. The P&S rider manage to stay on my wheel and he must have been strong because on Strava I had the second fastest time of the day on that climb. Just behind the winner of the Cat 1 race.
I spent the next several miles cursing the wheel sucker who I couldn't shake. I couldn't afford to sit up because this guy wasn't even in my category. I tried to explain that to him and he gave weak little pulls and claimed to be exhausted. Join the club right?! 
I yelled at him that if I was going to pull him to the finish he better not sprint me.
Guess what he did as we came around the corner. GAME ON! I gave it everything and caught him and we finished together. I haven't seen the timing chip times yet but I'm pretty sure I had it. I won either way. 
However my hamstring instantly cramped up as I stopped peddling. I was embarrassed to have to drop to the ground in such pain. I was dehydrated and needed sugar.  I had given everything and it paid off.
Howdy, esteemed Aggressors!

First off, congratulations to those that raced, you guys all represented Aggress well!  Tim, two years after shattering his femur, killed the field.  I was more excited to see him win than had I won myself!  I did a dance of pure joy when he told me!  Rich, Shane and Rich and Cathy (who I just met), all raced well and had great results.  

For me, I've never been less relevant in the outcome of a race.  Yet, I can only think of one race where I was more proud of the outcome.  I'm literally in uncharted territory regarding my recovery.  There was hope I'd be "here" by December.  

As Tim mentioned, the race organizers lumped together all masters under 50 years old in one group.  I believe that was 35 total men.  I was nervous, which is very unusual for me. No matter what happened in the race it was to be a surprise, and I don't like surprises during a race.  Just before the race, out of nowhere, my wife showed up and hugged me.  I really needed that!  She drove 6 hours the night before and stayed at our friend's cabin!  I had no clue.  It was the best surprise I've ever had!  Thank you Tim for helping pull that off!

As for the race, mine wasn't much of a race.  On the first real climb, about 18 miles in, I got dropped.  I tried to position myself up front before the hill so I could drift back and catch on, but I have a negative V02 max… I did drop back, but did not catch on.  


I found my own pace up the hill, and started catching and passing a bunch of other guys who also got dropped.  As normal, they were all surprised because I look more like a beer league softball dude than cyclist. I went by them all hoping they'd catch up and we could work together to catch back on.  We eventually formed a small group of about 10 or so. They tried to form a pace line but frankly, they sucked and were really slow.  I was upset to be with such a group.  When we made the series of right and left turns pretty quickly where there were a few houses around mile 22, I went to the front.  I didn't attack at all, just gradually lifted the pace hoping to flick the clingons off the back.  Well, all 10 of them were clingons.  So I rode from there to the finish by myself.  I did just enough to keep them at bay. I had about 43 miles of solace.  It was a great time.  I really wasn't hurting, kept my heart rate around 155 most of the time, and just stayed as aero as possible.  

I had some problems on the ride with my feet and hamstrings, which isn't unusual still, but I knew how to keep it in check.  I kept looking back to see how close the chasing group was.  On the big rollers to finish the race I could them, so I stood up to make it look like I was attacking those hills even though I was just going a steady, relatively easy pace.  Anything to break their spirits!  From reading Strava accounts they were trying to catch me, and were upset they didn't.  I thought they'd given up really.  

I'll continue to take things one day at a time, but this was a big victory for me.  Not a result I'm used to, but I'll take it! 

-Philip
Aggressors:
The weather for this year's edition of the highest road bike climb in North America was the best yet for  me; sunny, warm (sort of), winds light and variable.  At least half a dozen other Tucson riders, including Aggress Sandbagger Rich Horn, were also there to give it a go.  Six were registered in the MM70+ group but at our start (0715) there were only 3 on the line; Herb Johnson, Michael Raber, and myself.  Within the first 3 miles Michael was gone and it was down to Herb and I, as usual.  I knew going in that I would be more or less at the minimum point on the altitude acclimation curve (5 days at altitude) but it needed to be scheduled that way to give me a month at altitude before the Nat'l climb up Pike's Peak.  I mostly followed Herb as we got close to Echo Lake (approx. halfway point) and I must concede that he was better able to maintain a good pace during his "stand and deliver" segments then I expected.  As we approached Echo Lake I began to suffer significantly and shortly realized I would have to let him go; dang!  My race was basically over at that point and it was henceforth a good training ride.  I pushed but did not bury myself and in the end finished 2nd, 8 min behind Herb and 13 min behind my own PR, set when I was fully acclimated.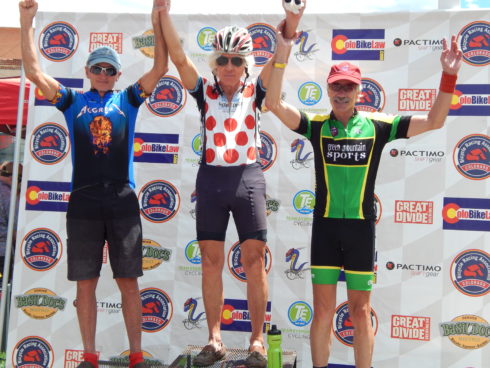 The consensus in the training blogs seems to be that when racing at altitude one should arrive at altitude either the day of the event, or more preferably at least 2 weeks prior to almost fully acclimate.  3-4 weeks are required for full acclimation;  4-6 days at altitude is the low performance point on the curve.  I guess I will know for sure if that was the difference in this case after Pike's Peak.
The Summiting credential is attached, Jim A.; GOATS!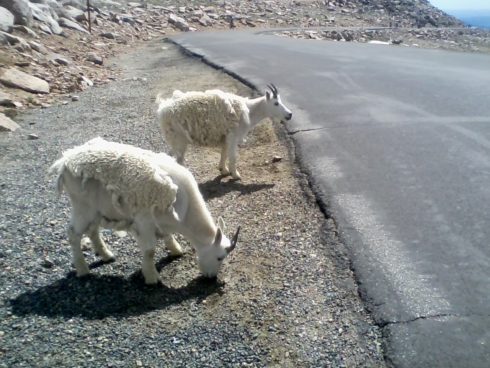 Rick E.
I took second today in the ITT M40+. My competition was a national track champ and 2nd in masters world track. So I was very happy when I rode my fastest
tt
this year averaging 26.7 mph for a 56.10 time. Not fast enough however. 
 It was not a smooth race. I forgot my HRM and I don't run power so I was a little in the dark. 
I passed my first two competitors within the 5k mark. However by 10k Karl promptly passed me. I kept him close but at the turn around he was gone. I forgot to say he was riding a single speed bike to rub salt in my wounds. 
I was riding 30 mph on the return leg and felt pretty good so I settled in. I definitely could have gone faster but I was afraid of blowing up and having the two guys behind me catch up. With 10k to go I decided I better pick up the pace. Which I did but with several k to go I was done.
I think with a steady pace I could have improved my time considerably. Thank goodness there's always next year. 
Congratulations to Shane and Rich who killed it today. Shane's time was amazing but I'll let him tell that story.
Really awesome job by Tim and Shane.  I think everyone asked Shane to quit taking the drugs.  When he posts you will see why.  
I signed up at the last minute thinking I may be able to pull out a 3rd place for a podium, first and second are way out of my reach.  Figured since I can't win I might as well train, so I went and road Mnt Lemmon on Saturday. With a slight head wind still made it to Ski Valley in just under 2 hours 6 minutes, don't think I was recovered from doing it on Thursday.
Any how, for the Merckx ITT: 
There were 4 of us, and Nippy had me go first. I don't like the lineup!
I went out hard from the gun, then kind of easy as the head wind picked up.  At the turn I timed each of the riders behind me.  1minute after the turn I passed Steve Brechner who started 30 sec behind me (thought he was 1min behind), then at 1min20 sec Nelson Cronyn who started 1:30 behind, and lastly Huhn at about 2 min (I thought he was 30 sec behind me at the start).  I was not thinking clearly at first as I thought both Steve and Nelson had gained on me and would win, but that I would clearly beat Huhn for my anticipated 3rd place.  It was not until about 5 kilometers later I re-did the math and realized I passed them at 1min and 1min20, but they still had about 30 to 45 seconds to go to the turnaround where my timer started.  Eureka moment! I was at least 30 seconds ahead at the turn.  This energized me a bit as I now thought there is a chance this race could be close!  I went just a little harder.  I crossed the line at 1:02:07 for an average speed of 24MPH.  Once the dust settled, it turns out I won by over two and a half minutes.  I told the guys, if I thought I had a chance, I would not have done Lemmon yesterday.  I am more then pleased with the results.
Later I was talking to Michael Batson from Yuma,  nice guy I have raced with several times, he said they laid him on the ground at the start!  First they tried to keep him back for another rider until he points out his start time is in about 20 seconds.  Then they rush him up and drop him to the ground!  ouch!  Tim Scott said they almost dropped him as well! sheesh! Glad I had a smooth start. 
I want to thank Philip Brown for coming all the way from Rio Rico to spectate and support us!  It was great to see him there.  He even captured a very glamorous shot of me somewhere on the course.  It didn't look like I was slaking at the time.
Lastly I would like to let everyone know we formally extended the team invite to Gene Rowley!  We are not to make it public yet until he has personally talked to his team.  Once he has done that we will get his email added to the Aggress group.  We are excited to have him join us and extend the family!
If anyone wants to loosen their legs Tuesday morning, Branden and I are doing Lemmon to break 2hrs to Ski Valley, he can do it with the new bike fore sure!
I'll try to keep it brief, on second thought…no.
Heading into today's race I knew I had a couple guys who could keep close.  One month ago we rode a
TT
over the same distance on that course and I won by 22 seconds over Steve Martin, so I figured I had to be on the top of my game today.  I was a bit concerned as I rolled out of bed this morning as I was still feeling a little sluggish after yesterday's prep ride, oh well you race with legs you have that day and not the legs you wish you had. 
  Before the race I was telling Tim a little about how I monitor things during the race.  I have my Garmin set to record 5k laps, if you ride 7:15/5k lap you are on track for a 58 min 40k
TT
.  On the way out my first 5k was 8:37, uh oh, this is not good pick it up, 2nd 5k 7:30 something and now there is a headwind, stay calm, but your losing it…they are gonna catch you, enough of the splits.  Got to the turn in 30 and change, that is a 1hr 40k and will get you knocked off the podium, oh wait… is that a tailwind? Since it was, trying to keep the speed above 30 mph on my way back.  Now I am turning 5 1/2 min 5k intervals.  With 5k to go I had to do a double take on my Garmin, my time was 49 something, a final 5k in 6 mins would result in a 55 min 40k, keep rolling that big gear, they are catching you.  I finished in 54:18, 27.46 mph.  Only a handful of seconds behind the cat 1's and Karl Baumgart in the 40-44 age group. 
  All week I'd work on visualizing the race and hitting the finish with nothing left, today was the closest I've come to that feeling at the finish.
Great rides by Tim and Rich brought home more hardware for Aggress. Awesome job guys!
Thanks to Philip for making the drive up from Rio Rico, it was great seeing you out there.