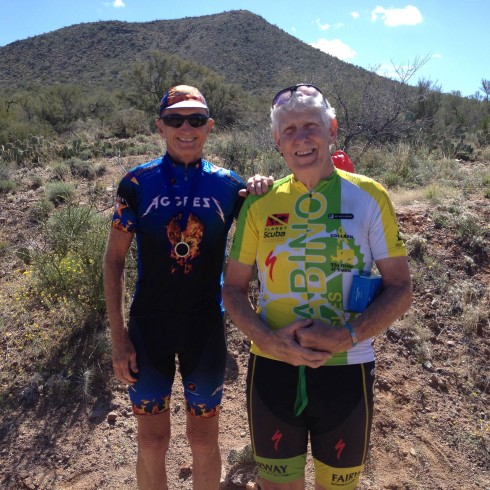 Aggressors:
The Omnium was comprised of the Flapjack Flats TT and the Colossal Cave RR.
The TT was windy but the wind direction was more or less straight down the course axis so xwind issues were minimal.  My best TT ever on this course; avg 32km/hr out and 52km/hr back.  Good for 2nd, 20 sec behind Jack Dillon.  Has to be the shaved legs!
RR was typical good AZ weather, and was 5 laps around the CC course.  My combined race field was 55/60/65/70/75 and pretty good sized, around 30 riders.  The hill was hammered at the end of lap1, and then, as we crossed the finish line, accelerated dramatically.  I could not quite keep the pace with the 8 leaders ahead of me and was alone until the C. Loma Alta turn, when the pack caught me.  As we turned onto OST I could see the breakaway about 200m ahead and I tried to get a rotating paceline going since I thought Jack Dillon was in the breakaway.  My words fell on deaf ears; no one else seemed to care.  At this point I took a good look at the pack behind me and realized that Jack Dillon was actually sitting in toward the rear of my pack, and was not in the breakaway.  Henceforth, my attention was on my group since my race was still up for grabs.  I tried to make sure the pace up the little hill at the end of each lap stayed reasonably intense and on lap 5 my plan was to bump the intensity while still on OST at the short, sharp, pitch-up just before the turn onto Pistol Hill rd.  One of the 55+ riders and one of the 60+ seemed to have the same thought so the pack got worked a bit going into the final climb.  At the 200m mark I was able to actually bump the intensity a bit more and fracture what was left of the pack behind me for the win, which also earned me 1st for the Omnium. 
I do need to develop just a bit more power so I can stop getting dropped by younger riders going over the top of hill climbs into descents.
The TT
on Saturday
was absolutely brutal for me. Something about being 135 pounds on a day when there was that much head/crosswind that just doesn't mix. Anyway I came up with 7th out of 10. On to the road race.
Sunday
morning felt much better. Slight breeze out of the southeast. Same as last year, the race was fast right off the line, PR'd the Strava segment from the start all the way to the OST turn at nearly 29mph average. The race was pretty tame, and on the last lap I felt my legs so go just past the feed zone. I attacked and started to pull away but was met with a face full of wind. I dropped back into the group and managed to pull off 10th of 25. Getting a top 10 sounded much better than 7th of 10 so I felt good about that. One thing about this race was that even though I didn't feel like I was able to put out my max efforts, I felt that my confidence in the peloton was much better than what it has been. Up next, TBC (hopefully as a 4) then South Mountain TT (which I'm really looking forward to).
B
Congratulations to everybody that raced this weekend especially those who muscled through the high winds for the time trial. Huge congratulations to Rick for getting first place in a road race and finally taking down that damn Dillon.
My road race went very differently than all of yours, I showed up and I felt great I was very well rested I was hydrated I was very well fed and relaxed and ready to just hammer 6 hard laps for Shane. that didn't happen the first lap with a typical cats four road race where it was pretty darn slow with a bunch of fake attacks and got sucked in immediately. But because the field was so aggressive and there were some fast people in there I made sure that I was always in the top 5 with Steve Pedone and Kyle van had a gram because those were the two guys to really watch out for. I wanted to make sure that whatever they did Shane and I did. The second lap was fast and it was quite aggressive the attacks went out for a longer time and I made sure I was in all of them, hoping that Shane was close by to follow. Going into the third lap I started to breathe really hard and noticing that my heart rate never went below 191 beats per minute and I started to cramp in my legs and my back. cramping is something I normally don't do so I knew that something else was up. I fell back into the crowd I try to shake my legs off but it was just a little bit too fast for me to shake off cramps and then try to get back in there. that was the end of my race big Fat DNF for Gustavo. But I always have a good time just by going to an event and there's always something to learn.
TBC is next and I'm looking forward to laying everything out and hopes to get Big Mike podium.
GRA
It was an early start for me as I rode out from my house, leaving at about
4:50
. I had a pleasant cruise across town on Speedway, free of traffic, with NPR in the earbuds. I got to the race with about twenty minutes to start time feeling surprisingly comfortable and relaxed on the bike.
Brandon and I discussed a few strategy ideas with me taking an aggressive approach to the first lap, but as we rolled through the lap it became very apparent to me that we'd have a hard time getting a clean break for two reasons: a strong field, quite stronger than I remember from last year, and a firm headwind coming up OST. I cycled through the front and got a feel for some of the riders, but through the next couple laps I had a hard time staying focused from the lack of excitement. Yes, the pace was pretty high, but it felt like Groundhogs Day as every one of the riders I had 'profiled' made the same fake attack at the same time every lap. After awhile I felt like I was playing Texas Hold 'em….everyone had their idiosyncrasies to exploit despite their feigned steely-eyed expressions.
Then at about the fourth (of five) lap I realized my heart rate was in zone 1 and I felt as fresh as ever. A thought occurred to me: see how long you can keep your HR that low and wait…just wait.
Coming up OST for the last time it was unusually tame….It seemed to me that the 17 or so of us in the front pack knew that each other were all capable of pulling off at any moment. At around 500k from the hill Brandon went with me fully surrounded in the bunch, and I honestly thought he was going to get away. The wind proved a stronger adversary, and with enough time for a prayer we hit the hill. As it seems to happen the field spread thin quickly. For what seemed like an eternity I pushed on keeping pace with six or so riders ahead of me. I thought I was slipping and would be passed quickly as I was not quite grinding, but the pain in my legs was immense. Then I looked up, saw the line, and realized a couple riders in front of me were slipping back. Ahead of them was a place on the podium. I put all I could into a saddle sprint. I ended up 3rd with a box of trefoil Girl Scout cookies. My favorite.
-J
Day 1 TT: Driving up to the TT course on Saturday was a route I'd taken many times last year, so this time even with the light southerly breeze gently flowing across one of the more beautiful parts of southern Arizona ;), I was relaxed, knew what had to be done and felt as if I was in my element. I'm finding you never get completely comfortable riding TT's, but somehow I look forward to the event, just you, the bike, and the elements. With a little warmup on the trainer, then a spin on the road I was careful to keep track of time and headed to the start line. Once off and heading into the wind I focused on keep cadence high and not grinding the pedals too much into the wind. I caught my 30 second man before the turn around, managed to not crash (always a thought that goes through my mind). Now back inbound time to turn the big gear, get to the 11 and keep it there. On the way back in I caught several more of my Cat 4 group and felt good with the effort 6th out of 12 not bad. I find it interesting to geek out in the numbers. For those that care:
| | | | |
| --- | --- | --- | --- |
| Outbound | 97 rpm | 312 watts | 20.1 mph |
| | | | |
| --- | --- | --- | --- |
| Inbound | 93 Rpm | 321 Watts | 31.2 Mph |
Day 2 RR: I'm learning things don't often go as planned. In the weeks leading up to the race it was shaping up to be Gus and Big Mike beating up on the competition to deliver me as close as possible to the front of the group. That way I could showcase my Canvendish-esque sprint (cough, cough). Well, with Mike nursing an injury it was up to Gus to try and establish the blue-train of Aggress dominance in the Cat 4 peleton. The first couple laps were tentative ones for me, after years of solo riding the TT is my comfort zone, so I was keeping myself to the edges of the group, trying to find my way. Occasionally thoughts of "Do I even belong in this group?" would pass through my head. The first couple of laps seemed tame with several guys trying to go off the front, it helped to know who to mark. If the marked guys didn't jump then I figured the race wasn't going anywhere. I just kept my eyes on them and sat in. At the end of the second lap we passed the Cat 3 group and once our peleton reformed I looked around to find Gus and suddenly felt a little lonely. Not sure what happened to him I figured I would keep marking the Tri-Sports guys as there was 3 or 4 of them trying to control things. As we rolled through the next lap and a half as the group started to thin out, I felt more comfortable and more confident in riding the bike into narrow spaces holding my ground when needed. Then during the middle of the 4th lap as we turned onto Old Spanish Trail I'm not sure what happened, lapse in thinking, surge in the group, probably both at the same time and I was in a place we've all been from time-to-time, watching the race head up the road without you. Next the wheel support truck passes you, then other riders who are hating life much more than yourself as you fight past them to try and regain the group. Well is was off on a fight-back that took all of OST and up Pistol Hill. Keeping the power up and always keeping the group in sight, about a quarter mile ahead of me. Sloooowwwly I started making ground on the climb, then over the top, then ground the biggest gear I could on the downhill portion, waved at Gus and Jonathan on my way by the cars and rejoined by the cattle gaurd as we headed into the 5th lap. Sat in for the next lap eating and drinking for what I knew would be an increase in pace during the final lap. During the last part of the final lap, it was facinating to watch the surges and reactions within the group. Jonathan used the card playing analogy and, thinking back, that's what this was, who was gonna lay down an attack that was gonna stick, did anyone have the legs to make it up that hill by themselves. It's a learning process, and I learned a ton just by watching those last couple miles. By nature I am not one to gamble or make a bold move, so here I was in reactionary mode, basically a spectator…. this time. As the group turned up the hill I was happy to make it with the bunch, passing some, but earlier in the day Cav used all the power I was trying to channel for my sprint to the line, I finished finished 14th out of 30 (I think), BUT never mind the placing, I learned so many things in those last 4 miles, next time I will be willing and ready to get out on that dance floor and give it a whirl, let's dance!
-SPC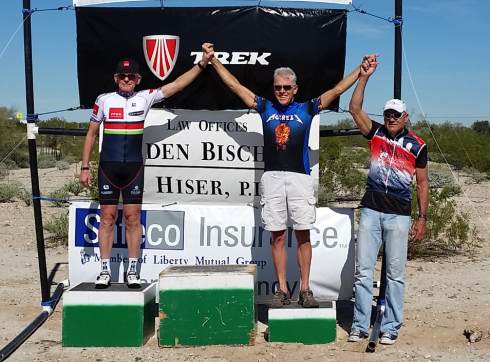 Aggressors:
The weather was nice and the turnout was around 740, reversing a disquieting trend down for the last several years.  This years field even included a dozen or so hand cyclists on recumbents.
The only significant change I implemented this year was to shave my legs for the TT (Yeah – I read the Specialized report and watched the video).  I really didn't completely believe the report but since the weather conditions were about the same as last year and I ended up posting my best TT ever I concede there may be something to it.  I averaged 40.1km/h (24.92mph) vs my previous best at 23.7mph, to finish 4th, just behind Doug.
The RR should have been my best event and indeed I felt good climbing the hill all 3 laps.  Unfortunately, on lap 2, just as we were approaching the finish line at the top of the hill, several of the  55+ guys attacked and 3 of my competitors that I comfortably followed up the hill to save a few matches for lap 3 took off violently to go with them.  I could not match the acceleration and was soon gapped by 50m.  As I got up to speed and down to business I held the gap constant on the gentle downhill for a few minutes but eventually had to ease off and watch them go.  Shortly thereafter, I was joined by Ken Louder, who had been gapped about the same time I was.  We did work together and eventually picked up a 55+ who worked with us and keep the Leaders in sight but could not close the gap.  On the last hill climb, I did close the gap some, dropping Ken and the 55+ guy in the process to finish 4th.  In retrospect, of course, I can speculate that if I had moved to the front of the peloton for the climb instead of hiding in the middle to conserve energy, I might have been able to drift back a bit but still hang on as they accelerated at the top of the hill.
The Crit was mute for me as I was too many seconds back to catch anyone.  I mostly just tried to stay on Phil Holman's wheel since he seemed to be pretty smooth.  For the sprint to the line, I stayed with Phil most of the way but he did start to gap me some about 100m out, and then 2 of my other competitors (Roy Quade & Robert Tompkins) managed to just nip me at the line, so once again, I was relegated to 4th.  Dang!!
In the end, I guess I was satisfied, but not thrilled, with my performance.  The busted RR was a little disappointing.
The 2015
VOS
was a mixed bag for me …
Friday's time trial was my primary focus for doing well and by most measures, exceeded my expectations. I had my PR for average speed, in any TT that I have done, finishing with a time of 34:00 and a 25.4mph average and knocking
1:35
off my time from last year. My average power was 262 watts and I kept my power tightly within the ranges that I had set prior to the race. However, I did fall to third place this year, from my second place finish last year … but, the first two slots were taken by Phil Holman and Ken Louder … both top five finishers in nationals last year in the TT for the M60+ and M65+ respectively. Very tough competition! Last year my goal was to break 30 minutes in the 20K TT and I did a 29:48 in the AZ State Champs. This year my goal is to break 29 minutes, and calculating a 25.4mph average for a 20K would give a 29:17 … I think my goal is within reach!
Saturday's RR was a different story! I got dropped the first time up the climb and worked like a dog to catch the leaders at the base of the approach to the climb, for the second time. Of course, working so hard didn't help my chances in holding onto the leaders up the climb and I got dropped again! This time, I could not catch back on. I could see Rick and two others just a few hundred meters ahead, after we crossed the cattle crossing guard, but could not close the gap. I struggled hard, but to no avail and fell out of podium contention … ugh! I elected to not make the four hour round trip to do the 30 minute crit on Sunday. Of course, many of you know that I had promised Liz that
VOS
would be my only crit from now on, and I would only do it, if I would get on the podium. She was, of course, happy with my decision. Pushing me around in a wheel chair for several months twice in the last few years hasn't been much fun and we don't need a repeat of that!
As I analyzed my performance in the RR, I recognized that my focus on the TT, and training for that, had compromised my performance. I had developed good power for 20-30 minute efforts, but lacked what was needed for the 5-10 minute efforts. As we know, that is what is needed to get up the hill at
VOS
. My power going up the
VOS
hill this year was about 20-30 watts less than what I was able to produce in last year's better performance. Lesson learned! Don't get too focused on just one event to the exclusion of developing what is needed to perform all around!
Doug P.
This weekend was an amazingly fun suffer fest that I have missed for a long time. Wish there were more three day races in the area and I had no job. 
TT
This was my first time riding this TT course and I figured 14.2 miles whatever. Go hard! That's TTing right. As I warmed up and made sure not to be such a socialite I noticed that the American flag was blowing in all directions and at about 12+mph. My plan… go hard. I went hard and finished 13th of 51. 
As most racers do when asked how did they did,  you got to go through an entire inventory of things that went wrong. Me I just didn't train. I am lucky to have all the top notch equipment and sunny days but I chose to rely on a lifetime cycling base and just maintain fitness. Lucky 13. 
RR
Mike and I had a plan. And that was to ride in the front 10-15 riders and shut down any attack that look like it could get away. Me riding his wheel and occasionally calling out instructions.  It was an interesting first lap as most CAT 4 first laps are SLOW. But as we approached the climb the pace picked up very quickly. I had to fight to keep Mikes wheel as everyone wanted that draft but you cant move me if I don't want to be moved. I bump bars and most inexperienced riders freak out and disappear to the back. First lap was very uneventful. 
    Lap two things started to happen, solo breaks three man breaks and heavy chasing.  Poor ol Steve Padone who was in the leaders jersey had no one working with him had to counter EVERY attack. Good get tired dude. As we approached the climb for the second time there must have been half a dozen small attacks that were immediately shut down. We approached the top and a explosion caught me off guard and I lost Ciasca's wheel and I had a great time chasing on the long decent with a group of 7 that I immediately organized a pace line again calling out instructions for rotation. This took about five miles of full gas chasing. We caught on and I got next to Mike and said "dude I was dropped" and He replied NO YOU DIDN'T YOUR RIGHT HERE" Done! I got his point. That was some Lute Olson training right there. 
    Headed into the third lap the intensity was building and the pace reminded me of a shoot out. We rounded the last turn and it was definitely faster than the previous laps and to hear a blowing tire in the inside lane at speed was very unnerving as that can take out the whole front of the pack . I made it very clear to Ciasca to move to the outside going through these turns and accelerate hard to avoid this kind of shit and sure enough we were wide into the turn and when we heard that tubular BOOM……ATTACK! The last stretch to the finish. It was fast. This thinned out the field by more than half. I made the mistake of looking at my heart rate and it read 201bpm. Whatever, Go!  At this pace no one could hold as there was still more than two miles left and it died down and some of the dropese caught back on. Thank God because this old body needed a break. But one by one attack attack attack shit here we go again, I was looking for Mike as he was slightly behind me on my right and there were about five GC riders in front in their drops and going. BIG MIKE CIASCA  to the rescue comes up in front of me and say Here we go G…. GO GO GO. Well there is a problem here. 12.5 lbs bike makes no difference here. His go and every one else go is very different. He put down those sledge hammers that he calls legs down and if his chain doesn't snap then he LAUNCHES forward and FAST. Can you say GAP. Shit  I just got dropped by my lead out man. Five dudes immediately filled that space leaving me now sixth wheel. Well shit this could have worked if the three guys in front didn't burn all their matches and sit up leaving me to go around and really not have a chance of finishing in the group. So I watched muscles pop out of muscles pop out of muscles on Ciasca's Loco Motive Piston like legs as he looked like he was just going to ride EVERYONE off like they were a bunch of GABA riders. Up and over the hill they disappeared. That was BAD ASS! 
GO MIKE.
CRIT
 I went into this event thinking that a Black INC is probably not the best choice for a crit in  cat4's ONE BAD TURN AND 14k GONE. poof Black inc is now Black Powder. 
    The Crit was my favorite event as this is my worst discipline. First lap was fast right off the start and everyone was riding very aggressively which I really liked. It took me two laps to work myself in the top 10 riders and I just wanted to keep my eye on Padone as he is still in the leaders jersey and a great crit rider. I LOVED hitting those turns at full speed. But my skinny legs could never match the acceleration on both straits, the first with a crazy ass head wind. I was sucking wheels and tucking as low as possible an DRILLING the shit out of my bike only to get passed by all the CALI sprinter looking dudes. Whatever, I saw how they corner. Ascared as we mex say. So every lap in all the turns I just went BMX on all their asses and gained my position again only to then lose it on the straight away. Well this was EVERY lap. Gettin old dude. Wutcha gonna do. .
Four laps to go and I decided to get closer to Padone as that's what we planned because he didn't have anyone to work with him,  and all the other GC dudes that were drilling it up front,  I managed to get that lap in with them and not lose any position on the straight away. Cool three to go. I thought that I was to close to the front and I knew that they would try to work me to the front and do all the work but I'm smart and sneaky. I dropped back a few and just suffered a bit but some how got this amazing feeling that I was SUPERMAN. Either I was dying of a heart attack or I am SUPERMAN. Right when I realized that I was not dying there was a two man break and I went for it and caught on and passed Padone and saying to him lets go…but he didnt. We hit the series of turns after the start/finish line and I gaped them by ALLOT I hit the straight and NO ONE WAS THERE. I was in the front. HAHAHAHA. Later suckers. I got one lap in solo with  two dudes hot on my ass and the peloton chasing down like a pack of starved wolves foaming at the mouth. THAT was an amazing feeling, but I knew that this was going to last just one lap so I gave it EVERYTHING. I got swallowed up and was as happy as one could d be. last half lap SOLO. All by my self. 
My average speed was 26mph max speed 33mph and my average heart rate 184bpm. BAM! SUFFER FEST FO SHO.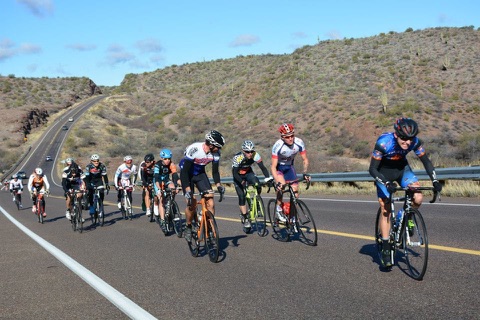 Fun day at the races. Congratulations to all that participated representing our BAD ASS team. And a huge congrats to BIG Mike Ciasca for winning his season opener, sprinting to the finish line on a rear flat! We had a plan and that was to work for him for this race …and it worked. I flatted twice, the rear was first and got handed two front wheels to replace it. Man we do need support that can tell the difference between the two. There was no wheel support for my second flat so I got picked up and got a ride behind the Cat 4-5 and saw every Aggress rider in. 
Next stop VOS where we are working for Shane, we're all going in with NEW TIRES!
Sr. Men Cat 4 35+
Sr. Men Cat4 45+
Men Cat5
Brandon Steinmann
4th place
Mens Cat 3
Master Men 55+
Master men 65+
Quick Rick Ellwanger
3rd place
Always a blast spending a day at the races with my team mates.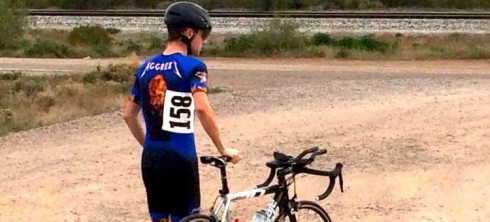 Interesting day out at the TT. My plan was to set a baseline for the 20k using just clip-on bars and alloy wheels on my road bike. It was really cold and a bit windy when I first got there around 730. Hopped on the trainer for half an hour to stay warm and keep myself from getting bored waiting for my 9:18 start time. I rolled around the frontage road for a bit and chatted with Mike and Liz about the ride. Mike gave me some great advice not to go too hard on the way out, even pushing for just 1mph faster would be too much. I did a few laps on the frontage road of 5sec sprints and easy spinning to keep my legs fresh and warm. I was able to launch off the line and spin up to 29mph at 110rpm, and slowly brought that back down to 25mph and 95-105rpm. Fortunately the wind subsided by the time I started, as the return side was nearly as fast as the outgoing. I finished 6th of 22 in the Cat5, 31:15 @ 23.8mph. Next stop, Oracle Road Race.
-Brandon
————————-
Following through on a promise to myself to record my thoughts after each race this year. Figured I would share them with anyone interested.
Race #1 The RAT.
       It's cold, I hate riding in the cold, I guess I am a spoiled Arizona rider, give me a choice of 90+ degrees or a cold 40 deg morning and I'm riding in the warmth. But it is Jan and the race is today so lets go. I got to the staging area about 45 mins before my start time, stood around and talked in an effort to put off the inevitable stripping down to my skinsuit and starting to turn the cranks. Eventually did a 10 min spin on the trainer after setting it up on a sidewalk that was not level, which almost led to my first crash of the season. Ciasca watched the whole thing and simply laughed as the "king of the indoor trainer" almost tumbled over trying to get on the thing.  After the spin, another 5 mins up and down the road waiting to start, I'm ready, lets do this. Lost track of time and distracted by the man with the bullhorn constantly announcing that one "Gus Amado, please report to the start line".  I figured I would take one more quick spin up and back just to stay warm, after all McLaren starts before me.  While riding back to the start line I think that's funny Jonathan's number (34) is 2 after me, then I hear "32 your late, just go"!  So a rolling start probably equalled out for the 10-15 seconds I was late.  I settled in to the tailwind, downhill outbound leg, turning avg cadence of 98 rpm, 291 watts and 30.2 mph. I knew several teamates were in front of me, the first was Rick Ellwanger he gave me something to focus one for the first half of the route.  I think I spotted Doug Perry as he passed Rick, so next up was to try and catch Doug.  First though was negotiating the first TT turn of the year, executed under the watchful eye of one Don M standing at the turn around, floppy hat on, orange flag in hand (funny the things that stick in your mind when you are suffering).  Immediately after the turn I was greeted by the same wind that had helped me on the way out. Now a headwind uphill slog to the finish. Three goals I focused on… catch Doug and stay areo, keep pedaling.  Inbound 94 rpm, 299 watts, 20.8 mph, ugh…. somewhere I caught Doug, who'd just passed someone himself.  Next up… just finish, stupid wind. Wait there is someone else up the road, if… I… just… work… a little harder, you can do it Shane! Is that a blue jersey? Orange flames middle of the back… yup. Holy heck, Gus! Fancy meeting you here, let's suffer together these last 500 meters. DONE!
4th place masters 45+
30.49, 24.2 mph
1 second behind Kurt Garbe's time from last year.
Good day, fun times, good conversation with fantastic teammates.
I look forward to next weekends festivities. 
2015 season is here!
———————
Aggressors:
This was likely my most pathetic effort to conduct myself credibly at a race event, ever!  I spent a fair amount of time trying to shave my legs after I got up so I was behind the curve at that point and stayed behind.  I was about to get on my rollers to begin my warmup when I happened to look at the time on my Garmin and realized something was wrong but I couldn't figure out what initially.  It finally sank in that I was due on the start line in about 1 minute, so there would be no warmup today. I donned my helmet and rolled to the start line with 5 seconds to spare.  Toward the end of the trip outbound I actually started to warm up a bit but that was dashed when I reached the turnabout and immediately felt the chill wind in my face.  Interestingly, and in spite of my pathetic management of this TT, I posted my best time for this course and finished 2nd in my group.  The chill remained and I had to hop in the hot tub when I got back home for a few minutes to get rid of it.  Given the weather, I needed a good warmup, 30-40 minutes, in order to be comfortable and did not get it.  On the other hand, given the outcome, I kind of think the leg shaving made some difference.  Hopefully, I'll do better administratively for the Oracle race.
Got up Avondale today, got three races in, each one of them a completely different result.  First up was masters 35 plus, got there in plenty of time, got my number pinned, got my shit together, and got on my trainer.  Spent about 40 minutes on my trainer, got the shit that I got together on and on my bike, and was off. just like I wanted, only the race didn't go like I wanted.  Despite spending 40 minutes warming up, I was not prepared for the race.  I ended up DNFing after I blew up in the middle of an effort .  This part of the racing, warming up and getting ready, has always been the bane of my crit racing.  I contemplated running over my bike as I backed up and sped South back to Tucson, but I eventually cooled off, rested up and got ready for the next race, the 2 / 3's.  It was a pretty big field and I got a good start, rode hard, and was able to get about 15th, which doesn't sound like much, but I was pretty happy with it. last up was the 3 /4 race.  Got a good start, rode hard, stayed fast, and was making my jump on the last lap, & I crashed.  I'm fine, got back up, finished the race, although it had finished long before.  Overall quite happy with the last two races, minus the crash.  Going to keep working on my warm up.  I've already started working Trainer workouts into my regular routine,so I'm comfortable on it warming up.
There was a big crash in front of me, by the way, I didn't just crash by myself like a jerk or anything.
-Mike M.
Results have been posted for the 2014 Arizona State Team Time Trial Championship.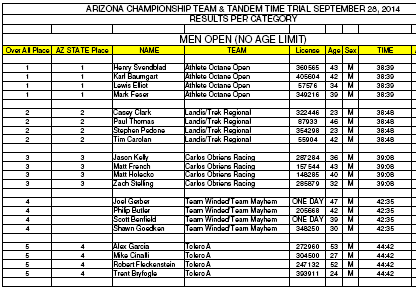 Well… the day dawned overcast, but regardless, I wore bib and jersey only and sent my rain jacket, undershirt, and wind jacket up to the top in a SAG vehicle.  I was here to win, not whimper.  Registration for my group (MM65+) was cut off at 30, so it was a pretty big group off the start line.  My longtime Batenoir (Herb Johnson) was on the front line immediately in front of me with Ed Chamberlain (last years winner) and my strategy was to keep him there until shortly before the finish line.  The first real attack came at mile 5 when Ed and Bob Groves(?)  went off the front.  Herb and I followed, but could not keep their pace and a gap that I recognized as insurmountable soon developed.  At that point we were a group of 4 fighting for 3rd.  Herb spent about 50% of his time standing and attacking and the other half seated and grinding.  After half a dozen attacks, I looked back and we were alone, so Herb and I would be fighting it out for 3rd.
Once we got above timberline, the attacks become pretty serious, and my HR hit 153-156, but I Was able to hang and still had a bit left.  During the last of these (13,500 Ft) Herb began wheezing and wobbling around a bit on the road and I still felt pretty good and realized that it just might be my day. 
About 1 mile before the finish I rode around Herb, picked up the pace a bit, and Herb could not match me.  I kept my HR up in the low to mid 150s until crossing the finish line (14,130 Ft) and developed a good gap back to Herb.
All-in-all, I think this was my best executed race, ever.
Rick E.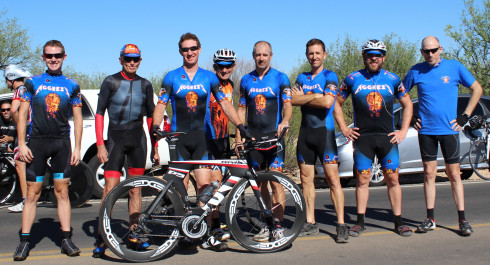 Aggress brought home some $$$ today! Five podium spots!
This was my first normal TT on my TT bike (an old Quintana Roo Caliente), I had ridden the Sonoita-Patagonia TT. So, I was excited. Beyond that, I picked up a set of Zipps from a friend (Joe Puchi), a 303 up front, 404 in the rear, yesterday…double excitement. Just carrying those wheels around in my car doubles the value of the vehicle!
In preparation for the TT, and with a nod towards the ShowLow race, Tim and I had a good ride yesterday with a pair of short intervals and a 15 minute interval up Whipple (he punished me uphill). I slept well and felt great this morning. Warm up was wonderful and I hit the line ready to go. My plan was to hold back my effort for the first five minutes and then open it up. My limited experience told me the first ten minutes really hurt no matter what … yup, it did.
After about three minutes I was in my 11 on the rear and only going around 24 mph … I'm a little slow upstairs sometimes, I was in the small chainring. I've made that mistake before! I don't think it hurt my time too much, if anything it helped me hold back for the first five minutes.
I was passing people like crazy, I hit 27 mph on the way out and was thinking that surely I'd blow up. I didn't know how far out the turn around was, didn't look at the distance displayed on the Garmin (it's amazing how cognitively deficient I become in a TT. I wonder how it could be lower than under normal conditions while leaving me with the ability to process oxygen). At the sight of each cross street I hoped and prayed for the turnaround, 215 pounds doesn't like going uphill much. When I finally saw the turnaround there was a traffic jam of about 4 or 5 riders. I backed off my effort a bit so I could slam it on the way down. The garmin said I hit 42, but I'm not sure about that accuracy.
On the way down I had a hard time maintaining my effort as I'd become satisfied by the speed I was producing. I could use a power meter. I crossed the line and my clock said exactly 36:01, was 36:05 officially. That was good enough to earn me some fancy money.
Of course all of the congratulations were nice, but I was happy with my effort. I wasn't nervous about the results, only wondered if I had beat Tim … I hadn't. He beat me by 15 seconds.
It was great seeing so many Aggress riders getting envelopes "full" of money today!
–Phillip Brown
Aggress Results:
41:50
| | | | |
| --- | --- | --- | --- |
| Rider | Category | Time | Place |
| Tim Scott | Men 35+ | 35:50 | 1st |
| Gus Amado | Men 35+ | 38:20 | 6th |
| Rich Horn | Men 45+ | 38:26 | 3rd |
| Mark Mandel | Men 55+ | 41:50 | 10th |
| Rick Ellwanger | Men 70+ | 40:18 | 2nd |
| Phillip Brown | Men 5 | 36:05 | 1st |
| Brandon Steinmann | Men 5 | 38:34 | 3rd |
| Shane Castle | Men 5 | 38:49 | 4th |
Aggressors:
This classic Tucson road race was less intense for me this year than in recent prior years and in some respects more enjoyable for that reason.  I really didn't do any training per se for this race.  It was simply my Saturday maintenance ride, and overall was a bit less intense that the Saturday DOGs ride I typically do.  Nevertheless, once I depart the start line it has my full attention, and I do want to win it.  As it turns out within the "old guy" racing sector, you get to know your competitors quite well; their strengths, their weaknesses, when they will attack, when they will hide, finish line behavior, etc.  Such knowledge is good and bad, of course, and is inevitable.  I knew going in that, if Jack Dillon were with me at the Finish, he would most likely outsprint me so I did bump the pace up Pistol Hill every lap to try and hurt him, ultimately to no avail.  He was there for the last lap climb and, although I did briefly gap him he got his steam up and rolled by me comfortably at about 80m.  I had been anaerobic since 300m and could do nothing about it. Even worse, I eased off on the pedals as he went by from the disappointment and another rider (Michael Patterson fr NYC) snuck by before I realized he was indeed in my race group.  Holey Moley Batman! I jumped on the pedals but did not pass him until about 4 ft after the finish line.  The brain fart (perhaps the result of a recent brain injury?) cost me 2nd place and I ended up 3rd.
Some noteworthy race nuances:  We caught up to the Cat 5s lap 1 and see-sawed back and forth with them for most of the race.  My race group M55/65/70 fractured on lap 2 with Jon Roberts (M55) going off the front solo and holding it to the finish,  and the M65/70 guys actually pulling away from most of the M55 guys for the rest of the race.  On lap 3 (I think) we actually caught up to the M45 guys and I had the opportunity to pat Rich Horn on the back and ask what they were doing dropping back to ride with the really old guys.  I was thinking "is this lazy-assed, or what?"  I was actually in the M45 peloton with Jack Dillon (of course) and about then our guys started yelling at us that we couldn't draft the M45s and had to let them go.  That seemed odd to me, given our admixture with the Cat 5s for most of the race, but we let them go and dropped back with the rest of our group.
Oh well……on to the next one.
Rick E.
Flames burning today: Brandon, Rick, Rich, Tim, Mark and yours truly.
I believe Tim and I busted into the exclusive 30mph club.  It took me two tries.
Featuring 11.7 mile TT today.  Out of 74 riders, only two did it twice: Joel Thompson and I.  We were first and second, got to the bottom, put the bikes back on the car and drove like hell back to the start, missed start time #2, but Don M was expecting us and he was fine with it; I had resolved to do it again either way.  Joel went second to last and I was last.  First attempt: 28.9mph.  Second attempt: 30.7mph.  Elevation loss of 700 ft with gusting side / front / tail winds.  I'm in the 30+mph club and I'll get a free T shirt.  
Fun early Shootout yesterday with Brent, Y, Brandon, Jonathan and Mark.  I resolved to just sit in and get the miles to save some for today, but a strong move by Big Mike on a TT rig drew me out to take the Sahurita sprint.  Fun times.  I flatted and a quick wheel change and I rolled back in with Mike M. and the remnants of the regular edition.  
Good weekend on the bike.  Plus Cyclovia with Y and JoAnne and then Flanders on a big screen.  
Next up: Colossal Cave!